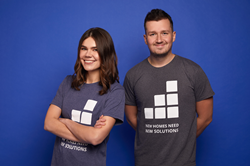 NEW YORK (PRWEB) November 29, 2021
Newhomesmate, сreated by the Propertymate team, a platform that makes buying new construction homes an easy process for homebuyers, is entering the Dallas market.
The ninth-largest city in the States is experiencing one of the largest home building booms. There are several reasons for this, the main ones: the immigration fueled by remote work in a warm and sunny state as a consequence of the pandemic, fast growing job market, and a favorable tax climate, for the sake of which even those who cannot work from home move to Texas.
More than 687,000 Californians have moved to Texas over the past decade, according to the United States Census Bureau. But with more people coming than leaving, housing became a real problem as new construction companies were unprepared for the surge in demand following the outbreak of the pandemic.
Newhomesmate helps to solve the problem of homebuyers accessing information about all newly built homes in one place. In addition to this the service provides a seamless experience of scheduling a tour and joining waitlists to buy a home. To make this possible the company partners with the top builders to make sure that all inventory is up to date.
"We are super excited to launch in Dallas, and help buyers to demystify new construction market and find their perfect new home, and eventually decrease the homeownership barrier," says Dan Hnatkovskyy, CEO, co-founder at Propertymate.
"Our team has done a huge work bringing over 90% of new construction inventory in DFW on our platform. We can't wait to help Dallasites to find their dream new built home," says Sofia Vyshnevska, COO, co-founder at Propertymate.
Propertymate also announced San Antonio, TX, Phoenix, AZ, and Atlanta, GA as the next new markets.
About Propertymate Inc.
Propertymate is a New York-based startup that helps homebuyers to find, compare, and buy new built homes. The platform aims to digitize and simplify the new home transaction process by matching buyers with home builders. In 2020, the startup graduated from the acceleration program Techstars in Austin. In 2021, Propertymate raised $1M in the seed round.
Lana Braslavskaia
For more information please contact pr@newhomesmate.com.