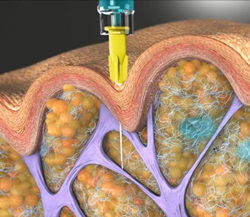 QWO is a game changer in cellulite treatment and will allow affected women to finally regain their confidence and have their skin looking its best!
NEW YORK (PRWEB) November 29, 2021
After several successful clinical trials, QWO injectable cellulite treatment is now on the market and offered at Skinly Aesthetics by Dr. Schwarzburg.
"We're thrilled to be offering QWO here at Skinly," says Dr. Schwarzburg. "Being one of the first clinics to offer this treatment, I'm excited to finally be able to promise my patients long term results and to successfully put an end to their cellulite."
The complete and permanent elimination of cellulite with a minimally invasive injectable treatment was never possible until now. Collagenase Clostridium Histolyticum (CCH), the active ingredient in QWO, is an enzyme that breaks down collagen, resulting in the enzymatic disintegration of the fibrous septae and the permanent elimination of cellulite. After years of careful research, development, and testing, QWO injections are now available at Skinly Aesthetics and ready for use on eager patients.
The key ingredient that makes QWO so incredibly effective is Collagenase Clostridium Histolyticum, an enzyme that breaks down Types I and III collagen fibers which make up fibrous septa bands, the root cause of dimpling seen in cellulite.
Manufactured by Endo Aesthetics, QWO was FDA approved on July 6th, 2020, for the treatment of moderate to severe cellulite in the buttocks of adult women.
After multiple successful clinical trials, QWO is clinically proven to permanently eliminate unwanted cellulite in only one to three sessions, which are to be spaced out by three weeks each. Previous cellulite treatments have had mixed results, as they've primarily targeted the fat or were surgically invasive with considerable downtime. QWO addresses the true root cause of cellulite dimpling: fibrous septae and remains minimally invasive at the same time. This is where QWO differs from other treatments and why its success rates are so high.
"There has been no effective minimally invasive solution to cellulite until now. I believe QWO will be a game changer and will allow women suffering from this unsightly condition to finally regain their confidence and have their skin looking its best." - Dr. Schwarzburg, M.D.
About Skinly Aesthetics
Skinly Aesthetics is one of New York's most successful medical aesthetics clinics, owned and operated by Dr. Schwarzburg, M.D., offering a wide variety of minimally and non-invasive cosmetic procedures. With many years of experience and globally sought-after skill and expertise, Dr. Schwarzburg's primary goal is to ensure the satisfaction and safety of his patients, which is why he was one of the first physicians to embrace the incredible opportunity of offering this groundbreaking cellulite elimination treatment.
For more information on the QWO treatment, please visit or contact Skinly Aesthetics office directly at (212) 774-4264, or email info@skinlyaesthetics.com.