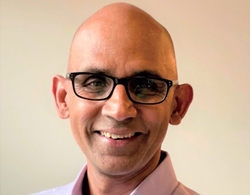 "We need a customer success practice that is comprehensive and nimble enough to adjust to the dynamic needs of every Rallyware customer", Mohan Natraj.
MOUNTAIN VIEW, Calif. (PRWEB) December 01, 2021
Rallyware, a leader in personalized learning and enablement and driving the performance and productivity of workforces around the globe, is pleased to announce a new senior team member. The company welcomes Mohan Natraj as Vice President of Global Customer Experience, who will be dedicated to leading customer success and enhancing the overall experience of Rallyware's customers.
The team at Rallyware understands that customer experience matters, especially in today's competitive and rapidly evolving business landscape. The COVID-19 pandemic has fundamentally changed how companies acquire, grow, and retain customers in the digital era. Therefore, it is critical to develop a customer experience practice that is excellent at both recognizing and adjusting to customers' values and outcomes with an agile and empathetic mindset. Mohan is an experienced leader with a mindset that embraces both characteristics.
To guide and shape this vision of delivering best-in-class customer experiences, Mohan will focus on developing a data-driven customer success approach to bring and expand on best practices to empower Rallyware customers to maximize their sales productivity and excellence in an ever-changing business climate while leveraging the company's adaptive Performance Enablement Platform.
For this to happen, important conversations with customers need to take place. "This involves having a real dialogue on what their usage and adoption [of the platform] look like, and adjusting to their future business goals, so we can adapt as needed to support them in achieving their desired outcomes," Mohan said.
A leader with strong multi-functional experience at both large-scale organizations and early stage companies, Mohan has worked in successful leadership roles spanning various customer experience functions at IBM and Sage. In his most recent role as VP of Global Customer Success at RFPIO Inc., he provided vision, strategic and fiscal direction for the company's global Customer Success organization. Responsible for all post-sale customer touch points, the team almost tripled under his leadership, resulting in meeting Logo Retention and Net Revenue Retention targets during a pandemic era.
When it comes to customer success, Mohan strongly believes in the process of refinement and continuous improvement. "I think that the overall customer experience has to be more of a roadmap, an ongoing journey," he explained. "We need a customer success practice that is comprehensive and nimble enough to adjust to the dynamic needs of every Rallyware customer while preserving and enhancing the highest standards for customer experience."
"When we considered what world-class customer experience truly means and how it could be scaled at Rallyware, we realized that scaling towards the best-in-class service to our customers will require bringing the top-notch experience in a leadership role," said Rallyware CEO George Elfond. "I am happy to announce that we found the right expert who fits seamlessly with the Rallyware culture and who we truly believe will spearhead our vision, taking our strong customer-centric nature and transforming it into one of the best Customer Experience organizations that drives workforce productivity around the globe, one individual at a time."
ABOUT RALLYWARE
Rallyware is a Performance Enablement SaaS Platform that delivers the right learning or business activity to the right individual at the right time, empowering each member of the workforce through data-driven personalized paths to success. The platform algorithms transform insights into actions through the intelligent prioritization and prescription of activities that are proven to impact results. Performance vanguards in large global enterprises have adopted the platform to connect their company-specific goals with the performance data of their employees, continuously driving company profitability and growth. For more information, please visit: http://www.rallyware.com.