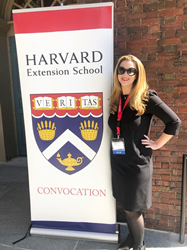 CAMBRIDGE, Mass. (PRWEB) December 06, 2021
Ana Cristina Cash, 36, a prominent musical recording artist from South Florida who resides in Nashville, TN has graduated with her Master's Degree in Creative Writing and Literature from Harvard University in November 2021. After three and a half years of attending the Graduate program at Harvard University based in in Cambridge, MA both at the campus and online, she is now one of Harvard's distinguished Alumni, which includes many prominent world leaders, US. Presidents and Fortune 500 CEO's.
Already an accomplished singer-songwriter who is a frequent performer on stages such as the Grand Ole Opry, Ms. Cash plans on utilizing her knowledge to further her literary endeavors, including fiction novels, all the while continuing to write and record new music albums. Prior to earning her Master's Degree from Harvard, she obtained a Bachelor's Degree in Journalism and Mass Communications from Florida International University. "I am so happy to have attended the Graduate Creative Writing and Literature Program at Harvard.Growing up, my family stressed the importance of having an education to me. Even when I signed my first major record deal with Sony Music as a teenager while I was working with Grammy Award winning professionals on my projects, my father encouraged me to stay in school while I worked in the entertainment industry and emphasized the value of a well-rounded education. His advice stuck with me, and I hope that I can inspire young up and coming recording artists to stay in school and not drop out, despite what success they may acquire in the industry. Knowledge is valuable."
Ana Cristina's most recently published poem she wrote titled, "Resilient" can be found in the book What Doesn't Kill Her: Women's Stories of Resilience. The book was co-authored and edited by Kerry Garvin and Dr. Elisabeth Sharp McKetta. Ana connected with both women during her time as a student at Harvard and the book was published by Harridan and Strumpet Books.
Ana Cristina Cash was raised in Miami, Florida. Ana, of Cuban descent, is bilingual and began a professional career in music at the tender age of six. She quickly became an accomplished champion of the singing competitions on the Univision Network variety show, "Sabado Gigante." Ana's recordings showcase her broad vocal range, from a deep resonating contralto to an amazing soaring soprano, revealing what is known to some as a "whistle register." Ana signed to Sony Music's Latin division at the age of 15 and recorded her debut album, Ana Cristina, in the Spanish language. In 2004, she was nominated for the Premio Lo Nuestro Award. The next year, she went on to become the first Hispanic-American to perform the "Star-Spangled Banner" for a presidential inauguration for President Bush in 2005. In 2016, Ana married music producer, John Carter Cash, and has since been writing and recording music mostly in the Country and Pop genres. She made her Grand Ole Opry debut, performing her own original songs, in 2019. Ana released her holiday album, "My Christmas Collection" in 2018 and her most recent album, "Shine" was released during 2020. With regards to "Shine", Billboard Magazine stated: "It's fair to say that Ana Cristina Cash's Shine is the first full statement of a new career path for the singer. Other notable appearances Ana has made include performing at The Rock and Roll Hall of Fame, Madison Square Garden, and various other major sporting events. She resides in Nashville, TN with her husband and two children, Grace June Cash and James Kristoffer Cash.