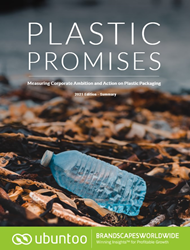 The report is unique in that it not only reveals which global consumer product companies have made plastic sustainability commitments, but also quantifies their momentum toward achieving their goals
ATLANTA (PRWEB) December 09, 2021
Ubuntoo, a global collaboration platform that helps companies achieve their sustainability goals, today announced the availability of its Plastic Promises report measuring corporate ambition and action on reducing plastic packaging waste, published in partnership with data analytics firm Brandscapes Worldwide.
The inaugural report helps companies benchmark their plastic sustainability goals and achievements against 176 global companies across 17 industries. It is available in a free version delivering high-level insights as well as a paid version that provides detailed individual company scores and industry-level comparisons.
Organizations were scored against four goal categories: commitment to virgin plastic reduction; use of recycled content; packaging recyclability; and recovery/collection goals. Each goal was then scored based on the extent of the company's ambition as well as the action it has taken toward its goals. Ambition and action scores were combined to arrive at an overall rating.
Among the report's most notable findings:

Out of the top 10 plastic packaging sustainability leaders identified in the report, only three are based in North America.
Across all companies, packaging recyclability (44 percent) and virgin plastic reduction (44 percent) were the most common goals.
Out of the 95 companies classified as high plastic users based on their industry, 30 did not have any reported plastic sustainability goals.
Household products and beverage industries had the highest overall Plastic Packaging Score.
"It's one thing to have a plan to be plastic neutral — it's an entirely different thing to execute on it," said Venkatesh Kini, Co-founder of Ubuntoo. "Our Plastic Promises report is not just a scoreboard but a tool that allows companies to benchmark their progress toward plastic waste reduction and compare themselves against their industry peers. The report is unique in that it not only reveals which global consumer product companies have made plastic sustainability commitments, but also quantifies their momentum toward achieving their goals."
Data points used to determine the report findings were collected from publicly available sustainability reports of leading corporations, news articles, annual reports, reports to non-governmental organizations (NGOs), and press releases.
"In the same way that companies are beginning to understand and own their Scope 3 carbon emissions, companies that use plastic need to see beyond their current understanding of what part of the problem they should own. They need to take responsibility beyond the boundaries of what they control directly," said Nina Goodrich, Executive Director of GreenBlue and Director of the Sustainable Packaging Coalition.
Plastic Promises is the first in a series of annual sustainability scorecards that Ubuntoo plans to release in the areas of plastics, water, climate, and fashion. To download the free version of the Plastic Promises report, or to learn more about the in-depth 2021 paid version, go here.
About Brandscapes Worldwide
Brandscapes Worldwide is a global marketing strategy consulting company that is focused on delivering profitable growth for brands and companies. Winning Insights™ is a unique discipline that helps it discover and deliver essential consumer and market truths that power effective growth strategies. For more information, visit http://www.brandscapesworldwide.com.
About Ubuntoo
Ubuntoo helps make eco-friendly business a reality for Fortune 500 companies with its global environmental solutions platform. The AI-driven platform can be likened to a "matchmaker" service that connects organizations with a broad range of vetted sustainability solutions and experts and also offers curated sustainability research and news. The Ubuntoo community includes 30,000 innovators, academicians, scientists, and corporate professionals from over 150 countries. For more information about Ubuntoo, visit http://www.ubuntoo.com or connect with the company on LinkedIn, Facebook, and Instagram.