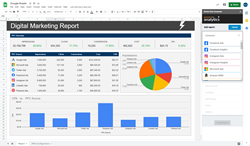 The advent of web-based spreadsheets has finally enabled users to skip the dreadful task of manually updating spreadsheet data
ORLANDO, Fla. (PRWEB) March 02, 2021
Spreadsheets have been a favorite tool of marketers longer than computers themselves, but despite progressing from paper-based to digital, there is one key drawback that has only recently improved -- data collection. The advent of web-based spreadsheets has finally enabled users to skip the dreadful task of manually updating spreadsheet data, and it is no surprise digital agencies and enterprises have been willing to pay hefty premiums for automated assistance.  Today, Power My Analytics is announcing the release of the first automated reporting solution for spreadsheets that all marketers can afford.
"Businesses eagerly want more flexibility with their marketing data," says Morgan Jones, CEO and Founder of Power My Analytics. "Our customers prefer using Google Data Studio for storytelling and creating custom dashboards, Google Analytics for tracking advertising sources, and their favorite spreadsheet tool for merging, manipulating, and running multiple calculations. There is a growing trend of owning your own data, but due to high costs of development or enterprise solutions, that dream has been unattainable by your average digital marketer or agency…until now."
This release is highly anticipated by many digital agencies.  Power My Analytics spreadsheet imports start at just $49.95/month, and users have the option of importing data to Google Data Studio and/or Google Analytics as well at no additional cost.
Both new and existing Power My Analytics customers are invited to try out the spreadsheet data connectors completely free for 14 days. They can install the Sheets Data Connector Add-on from Google Workspace Marketplace or the Excel Data Connector Add-in from Microsoft AppSource.  New customers should sign up for a Power My Analytics free trial, then connect one or more data sources before using the spreadsheet apps.
About Power My Analytics
Power My Analytics is a reporting automation hub that enables digital marketers to collect data from popular advertising, social media, email, shopping, CRM, and other platforms such as Facebook, Instagram, Microsoft Ads, Twitter, LinkedIn, Mailchimp, Amazon, Shopify, and more, then integrate the metrics they need into their favorite data destinations, including Google Data Studio, Google Analytics, Google Sheets, Microsoft Excel, Google BigQuery, and/or SQL.