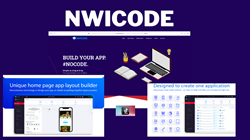 Nwicode has set itself ambitious goals that will help small and medium-sized businesses to stand on a par with large retailers, providing the best technology to their customers.
NEW CITY, N.Y. (PRWEB) March 09, 2021
New IT startup Nwicode.com announced today that it plans to significantly increase its revenue to $ 50 million in the next five years through its unique application development solution.
The Nwicode team expects this growth to be driven by the big changes that have occurred due to Covid 19 and its new technology solution App Creator, which will allow users - even those with no technical skills - to create mobile apps created for Android, iOS without code.
In 2021, a digital product without a mobile app will lose a significant portion of its audience. Approximately the same story happened at the turn of the century: at the beginning of the noughties, the absence of a site in a serious organization was considered a bad idea, and then the task was greatly simplified by site designers (later - landing pages). Now the ball is ruled by mobile applications, and many are trying to make them with the help of various designers.
Large IT companies and retailers, such as Amazon, Tik Tok, Ali Baba, etc., can easily afford the use of AI, which makes them more successful in providing their services to the end customer.
But for small and medium-sized businesses, this is not always affordable and the lag in development in front of competitors can reach from 3 to 5 years.
Today, many companies have started to order their own mobile applications, spending from 5-10 thousand dollars on them and waiting from 3 to 6 months.
What if they could launch it in a couple of days and spend no more than $ 100?
So, we developed the Nwicode platform, which not only helps small businesses save tens of thousands of dollars, but also increases the growth and value of the company itself, making their customers more loyal.
If you have an idea, you want to create an app, store or service service, then App creator Nwicode is the place you are looking for. Nwicode believes that everyone should be able to create an idea regardless of money, resources, or time, and without having to involve a team of programmers.
The American startup Nwicode, which offers customers a mobile app builder for iOS and Android, was able to increase revenue in 2020 and, thus, brought it to $30 thousand. Nevertheless, the company continues to work "in the negative" for strategic reasons: all the funds received go to the modernization and promotion of the mobile platform, as well as regional expansion. At the moment, the company has just opened a round to attract investment and expects to start global expansion in the international market in 2021.
In the spring, Nwicode will have updated solutions for publishing materials (reporting, analytics, books, magazines). In addition, the company will add new out-of-the-box solutions and widgets to "become a full-fledged mobile Amazon in terms of selling components or WordPress in terms of building apps."
Its main competitors in the US, the company considers startups Mobile Roadie, Conduit (estimated at $ 1.5 billion) and BiznessApps. But all of them are inferior to Nwicode in terms of functionality, according to the company.
What do 90% of our customers want and will definitely use and what do our competitors not have?
This is the question investors ask any startup.
I didn't have to think for a long time, just look at the statistics of what most investors invest in — AI (artificial intelligence), and then everything is simple …
Our competitors do not offer this. Any company wants and can apply this technology in their business, but it is very expensive and long to order development.
Nwicode-helps businesses and solves this problem, saving owners hundreds of thousands of dollars a month. Now that a new product has been created, it's time to talk to investors to take advantage of the mistakes of dormant competitors and capture more of the market.