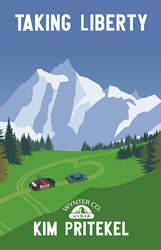 "Taking Liberty is the second in a collection of books about Wynter, Colorado," Pritekel said. "Though a fictional town, it's a magical place where the lost go to start over, find love, find happiness, find themselves. The journey begins with book one, Finding Faith."
PUEBLO, Colo. (PRWEB) March 16, 2021
Kim Pritekel's Taking Liberty follows two women in search of fulfillment who cross paths in the fictional town of Wynter, Colorado. Within this uplifting novel, Pritekel weaves a compelling tale of hope, discovery, and eventually, love. Not always easy exploring the LGBTQ world in a small town.
Buy now from Amazon: Taking Liberty
The synopsis:
A victim of a massive corporate downsize, Liberty Faulkner suddenly finds herself without a job, without a home, and without a plan. Though certainly not part of her vision, Libby decides that the familiar is the safest path back to her life goals. In this case, the devil she knows is home: the tiny mountain town of Wynter, Colorado, a close-knit place where everybody knows everybody and everybody's business. Seems like the perfect place for the twenty-five-year-old to start over and figure out who she is without being noticed…not.
Sergeant Grace Montez escaped her dead-end job and toxic relationship in New Mexico and moved to Wynter to help build their police department from scratch. Now an established figurehead in the community, she's got her professional life dialed in and even mentors new recruits on the force. After a challenging childhood and lifetime of abandonment and disappointment, Grace hasn't been interested in another relationship—especially because no one has caught her eye since a certain quirky college student who used to make her caramel macchiato at the local coffee shop moved away three years ago.
Now that quirky college student has returned as the beautiful, mature woman Libby has become. Can Grace keep her distance, or will she finally take liberties with what is being offered?
Taking Liberty is published by Sapphire Books.
About Kim Pritekel
Kim began writing at 9 and has published 15 LGBTQ novels since 2000. In addition to writing novels, she also writes short stories and screenplays that have been brought to life via her own production company, Asp Films. Buy her novels from Amazon.