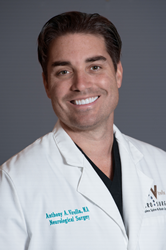 "For personal injury victims, who have already suffered enough, the M6-C Artificial Disc Replacement affords a real opportunity to improve quality of life. I was honored to provide this surgery, as medical lien treatment, to the victim who is currently involved in litigation."
LOS ANGELES (PRWEB) May 05, 2021
Board-Certified Neurosurgeon Dr. Anthony Virella, MD, FACS, founder of Virella Spine Surgery in Southern California has successfully performed a medical lien, M6-C Artificial Disc Replacement surgery for the victim of a personal injury accident, who suffered a traumatic disc herniation in his spine as the result of a motor vehicle accident. This marks the first time that a personal injury victim in Ventura County has received an M6-C Artificial Disc Replacement.
The M6-C Artificial Disc Replacement surgery is a non-fusion, minimally invasive spine surgery. During the procedure, the injured victim's damaged disc was replaced with an artificial disc designed to mimic the natural structure and movement of the spine.
According to Dr. Virella, "The physiological and biomechanical characteristics of this Artificial Disc Replacement technology is identical to the native human disc. It allows for greater range of motion than previous disc replacement implants and fusion techniques. As an additional benefit, the M6-C Artificial Disc Replacement system decreases the incident of adjacent-level disc disease. For personal injury victims, who have already suffered enough, the M6-C Artificial disc replacement affords a real opportunity to improve quality of life. I was honored to provide this surgery, as medical lien treatment, to the victim who is currently involved in litigation."
As the only Board-Certified, Fellowship trained in Complex and Minimally Invasive Spine Surgery, Neurological Spine Surgeon in the area, Dr. Virella provides comprehensive spinal care to patients and injured victims throughout Los Angeles and Ventura Counties. "Virella Spine Surgery provides premium spinal treatment and surgery when necessary to all patients, including those who need help, while they are in litigation. Patients receive the same exceptional care whether they are fully insured, or they need treatment on a medical lien," he said.
Dr. Virella brings his 20+ years of experience to all his Artificial Disc Replacement and Complex Spine Procedure patients.
Dr. Virella has also been qualified by multiple courts in Los Angeles and Ventura Counties. He serves as a medical expert for both plaintiffs and defense attorneys in personal injury lawsuits. As the former Director of Neurological Surgery at the Ventura County Medical Center, Dr. Virella is available to personal injury attorneys during all stages of litigation, from depositions through trial.
He has provided expert medical opinion on various spine and brain injuries and conditions including herniated discs, fusion surgeries, brain surgery, spinal fractures, bulging discs, memory loss numbness, headaches, paraplegia, and quadriplegia. He has also been retained as an expert witness for post-surgical conditions, such as post-operative hematomas, and misplaced pedicle screws.
"This sophisticated spine surgery is reason for those who suffer disc injuries as the result of car accidents, motorcycle accidents, slip and fall accidents, and other personal injuries to have hope for better days" Dr. Virella said.
Dr. Anthony Virella is the Founder of Virella Spine Surgery, serving patients in Agoura Hills, Los Angeles County, Ventura County, San Fernando Valley, San Leandro, Riverside, Bakersfield and Van Nuys. Dr. Virella is a Diplomate of the American Board of Neurological Surgery. He is a member of the Congress of Neurological Surgeons, California Neurological Society, and the American Association of Neurological Surgeons. For more information about Dr. Anthony Virella, visit http://www.dr-virella.com or call 805-449.0088