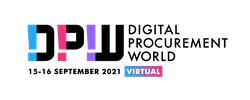 Both companies IBM and Globality are leaders in digital procurement, and their experience in helping large organizations with digital transformation will greatly benefit our delegates." - Matthias Gutzmann, Founder of DPW
AMSTERDAM (PRWEB) May 11, 2021
Digital Procurement World (DPW), the world's leading ecosystem dedicated to helping procurement organizations with digital transformation, announced today that IBM and Globality will be the lead sponsors of DPW2021, its annual flagship conference. The virtual event, to be held on 15-16 September, will bring together technology companies, buyers, thought leaders and media from around the world.
As well as key representatives from IBM and Globality, those confirmed to present at the event include many of the biggest names in digital procurement.
DPW's relationship with IBM and Globality began when the two companies sponsored the first DPW conference in 2019, which was described by Jason Busch, founder of the online procurement and supply-chain community hub Spend Matters, as "the best new procurement event in years".
"At DPW, we're all about showcasing excellence in digital procurement," said DPW founder Matthias Gutzmann. "So we are delighted to have IBM and Globality as our headline sponsors for DPW2021. Both companies are leaders in this field, and their experience in helping large organizations with digital transformation will greatly benefit our delegates."
Bob Booth, Senior Partner in IBM's Global Business Services procurement finance transformation team, said, "We're excited about the DPW2021 partnership, and are looking forward to a discussion on how to combine, Cloud, AI and start-up technologies to transform colleague and supplier experiences and processes in procurement to drive strategic value for global enterprises."
Keith Hausmann, Chief Revenue Officer at Globality, said, "We are excited to continue our ongoing partnership with DPW as a headline sponsor of DPW2021. We feel a powerful kinship with the event because DPW and Globality have a shared mission: to explore how digital technology can transform procurement, helping it to rebuild its value proposition and add deeper strategic value to leading global enterprises."
About DPW
DPW is the tech ecosystem for the global procurement industry, bringing together a diverse network of startup founders, investors, executives from technology and advisory firms, business leaders and academics to collaboratively tackle industry-wide challenges.
About IBM
IBM is a leading cloud platform and cognitive solutions company. Restlessly reinventing since 1911, we are the largest technology and consulting employer in the world, with more than 350,000 employees serving clients in 170 countries. With Watson, the AI platform for business, powered by data, we are building industry-based solutions to real-world problems. For more than seven decades, IBM Research has defined the future of information technology with more than 3,000 researchers in 12 labs located across six continents.
About Globality
Globality, the world's first AI-powered platform and marketplace, is revolutionizing how companies buy and sell services. Globality's digital solution replaces the archaic analog Request for Proposal, efficiently and effectively scoping needs, managing demand, matching companies with outstanding suppliers that meet their specific service needs and cutting the sourcing process from months to hours while delivering savings of 20% or more.
DPW2021 is scheduled to take place virtually on 15-16 September. To find out more and to book your place, please visit conference.dpw.ai