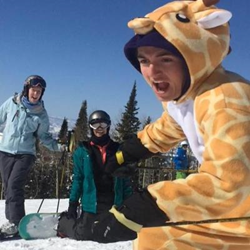 GLASTONBURY, Conn. (PRWEB) May 18, 2021
With more than 18 million views, the 3-second Vine of a giraffe photobombing a family photo at Steamboat Springs, Colorado, sparked hundreds of remakes, animations, Halloween homages and even Snapchat filters and musical remixes. So in line with the other recent meme memorabilia-gone-NFT, Josh Wagner, the skiier in the giraffe suit, put their iconic Vine on auction on OpenSea, ending this Thursday, May 20, 2021.
The 3-second video, which has been featured in Vine mashups as well as on Lad Bible, Crashletes and Ridiculousness, remains one of the most beloved Vine loops. Overheard on most ski slopes, the giraffe's proud statement of identity is even listed in urbandictionary.com.
Offered for auction by the skiing trickster itself, this NFT offers a piece of Vine history and pop culture along with the pure kinetic joy of a giraffe gone rogue.