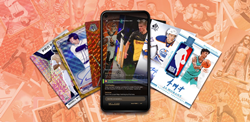 "Forerunner Ventures is a forward-thinking team that brings confidence to emerging commerce models, and they're believers in live interactive content. Thanks to the support of our investors, we're able to accelerate our plans and make Loupe a one-stop shop for all sports card collectors."
MIAMI (PRWEB) June 10, 2021
Loupe Tech, Inc., the live e-commerce streaming platform built for sports card collectors, reaches another significant milestone in the company's brief history, closing a $12 million Series A round of fundraising, led by Forerunner Ventures, with additional investment by Professional Sports Authentication (PSA) executive chairman and noted card collector Nat Turner, Mint 10, and DJ/producer and Topps artist DJ Skee.
Loupe launched in October 2020 and has quickly proved itself to be the go-to commerce platform for sports card enthusiasts. By uniting thousands of buyers and sellers, in-app purchasing power, and high-quality video livestreams with zero latency into an easy-to-use app, Loupe ensures users don't miss out on the best collectible cards as soon as they hit the market so they can enjoy their hobby without hassle.
The model was immediately validated by the community of modern collectors, outpacing the company's initial revenue projections with 50 percent growth month-to-month and brick-and-mortar card collection shops reported doing 90 percent of their business through Loupe.
"The hobby's reception to Loupe has continued to amaze me every single month," says Loupe founder and CEO Eric Doty. "Our goal from the outset was for Loupe to be on every collector's phone. Every day, we're inching closer to that. Forerunner Ventures is a forward-thinking team that brings visionary confidence to emerging commerce models, they are believers in what we are doing with live interactive content. Thanks to the support of our investors, we're able to accelerate our plans and make Loupe a one-stop shop for all sports card collectors."
Loupe is one of the first live commerce streaming platforms built for sports card collectors that fuses the community aspect of video game streaming with the thrill of live unboxing as entertainment. The card trading market is projected to reach $98.8B by 2027, and Loupe is ahead of the curve with its marketplace model.
In January 2021, shortly after launch, Loupe secured $3M in seed fundraising led by Upfront Ventures, and because of the enthusiastic reaction from consumers, the company's Series A fundraising came only four months later.
"The pandemic really pushed us as a society to embrace the internet in new ways to better forge genuine connections, and Loupe is the future of commerce at play," said Kirsten Green, Founder and Managing Partner, Forerunner Ventures. "Eric and his team saw the massive potential for sports card trading in an ecosystem that didn't celebrate the community, engagement, and excitement of it all. Now the discovery and purchase of sports cards at scale means more impact for collectors, all in one thrilling app. We've only seen the tip of the iceberg in terms of Loupe's impact as they lead the way into the next revolution of digital marketplaces."
Loupe is located in Miami and plans to open a physical card shop and office space in the Wynwood neighborhood in the coming months. Series A fundraising will also be used to aggressively scale up the Loupe team to assist with new product features, partnerships, and user acquisition.
The app is entering the second phase of its development roadmap, which includes building out a robust suite of user-requested features and revenue-growth options. Loupe will also continue to sign strategic partnerships, similar to its collaborations with Professional Sports Authenticator (PSA), Blowout Cards, and Green Bay Packers running back AJ Dillon.
About Loupe Tech, Inc.
Loupe is a live commerce streaming platform built for sports card collectors. It combines the audience and community of video game streaming with the surprise and thrill of opening a pack of cards. Loupe prioritizes a streamlined buyer experience and low-latency streams, making it easy and fun to buy and sell cards. By offering modern tools in a single app, Loupe aims to be the go-to platform for all sports card collectors and sellers. Loupe is located in Miami, FL and currently has nine full-time employees. For more information, visit loupetheapp.com. Loupe is currently available to download on both iOS and Android devices.
About Forerunner Ventures
Forerunner Ventures is an early-stage venture capital firm dedicated to investing in ambitious entrepreneurs to define and dominate a new generation of business. Forerunner has investments in leading companies including Chime, Faire, Glossier, Hims & Hers, Oura, The Farmer's Dog, Warby Parker, and more. For more information please visit forerunnerventures.com.
Media Contacts: Brett Makedonski: brett@loupetheapp.com
Assets accompanying this press release are available in the Loupe press kit.