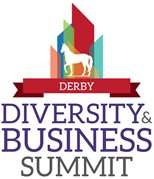 "Bringing all groups together intentionally enables our members, community, and corporate allies to have honest dialogues and conversations about our differences, as well as our similarities, to strengthen solidarity across race, gender, age, and ability. - DDBS Founder Tawana Bain
LOUSIVILLE, Ky. (PRWEB) April 20, 2021
The Derby Diversity Business Summit (DDBS) brings together the world's top suppliers, executives, and business leaders — inclusive of ALL diverse groups (Minority, Women, LGBTQ, Veteran & Disabled) to network, develop, and enjoy the Kentucky Derby. Guests will participate in panel discussions, hear keynotes from highly sought-after speakers, and participate in virtual networking one-on-one opportunities.
DDBS Founder Tawana Bain says, "Bringing all groups together intentionally enables our members, community, and corporate allies to have honest dialogues and conversations about our differences, as well as our similarities, to strengthen solidarity across race, gender, age, and ability. We seek to grow economically and bring an understanding of culture and inclusion to the forefront, while also tearing down the stereotypes and prejudices held against different groups. Recent events have shown us once again that these conversations are a necessity."
Exhibitors can showcase their business with a virtual booth during the conference for $75. Guests can attend the conference with a 3-Day Virtual Summit Pass for $125 (or 1 Day Virtual Summit Pass $50); or a 3-Day In-Person Summit Pass for $795 (or 1 Day In-Person Pass $275). There will be 75 VIP swag boxes for attendees who register by 4/14 while supplies last, which will include a shopping bag and matching mask by Bosisi Designs. Swag bags will be given to all other registrants.
In addition to the mainstage offerings based in Louisville, Kentucky, DDBS will include breakout sessions in Los Angeles, Cincinnati, Louisville, Chicago, Dallas, NJ/NYC, South California, Nashville, and Philadelphia. Each Host City's committee will create conversations around relevant topics including Forming Allies Around Racism, Diversity in Sports, Lifetime vs. Lifeline, Who Are We Now?, Leading Through Change, Digital Transformation, and Leveling the Playing Field of Procurement, The Next Phase of Work.
Cheryl Borland, the Chairwoman for the Host City Committees, says "The Host City Workshops, held virtually in each of our nine host cities, allow us to dig deeper into the change and transformation in the business community. We will focus on how diverse-owned businesses progressed from initial pivot to transformation into renewal. The business community is starting to emerge from a very tumultuous year and as we reopen – what lessons will we keep."
Information and registration is available at https://www.derbydiversity.com/.
2021 DDBS Schedule
Tuesday, April 27th – Champions for Change & Unity for All / Workforce Diversity Day
10:45 AM Breakout Session: Digital Transformation (Lousiville) and Lifeline or Lifetime: What Will We Keep? (Chicago.)
12:00 PM Breakout Session: Leading Through Change – the Transformation Back to Business (Cincinnati) and Lifetime or Lifeline - What Lessons Did We Learn? (Nashville)
1:15 PM Host City Breakout Session: The Next Phase of Work (NJ/NYC) and Lifeline or Lifetime: What is Next? (Dallas)
2:45 PM "Host City Provided Topic" – 2021 – Who Are We? (Philadelphia) and Leveling the Playing Field of Procurement (So. California)
6:00 PM Open Session / Idea-Thon Kick Off
Wednesday, April 28th – Sports Marketing & Diversity Day
9:00 AM General Session & Panel: The Importance of Diversity in Sports is Transferring
10:15 AM General Session – The of Sports Around Social Justice
11:30 AM Catching up with the 2020 PIVOTChamps Winners
12:30 PM Keynote/Fireside Chat/Lunch: Diversity and Inclusion – What Does It Really Look Like in Sports and Entertainment – Ken Sanchez Panel, L.A.
2:15 PM Breakout Session: Before the Data; Representation in Your SR Marketing & Sales Roles Matter
4:00 PM By Invitation Only: Round Table Discussions
6:30 PM Brims, Bow Ties, Bourbon & Buyers
Thursday, April 29th – Supplier Diversity & Supply Chain Day
9:00 AM Breakfast & Keynote
10:15 AM General Session: Diversity & Analytics Through the Corporate Lens
11:30 PM General Session: Diversity & Analytics from the Provider Lens
12:45 PM Lunch & Fireside Chat: Sustaining Operations Through Disruption – Presented by DDBS Liaisons Committee
2:30 PM General Session: Fashion & Entertainment Panel
5:30 PM DDBS Isaac Murphy Image Awards Dinner Presented in Partnership with PPATH
9:00 PM Derby Sneaker Ball
Friday, April 20th – Kentucky Oaks Day at the Track
Saturday, May 1st – Kentucky Derby Day at the Track
2021 DDBS Sponsors:
Churchill Downs Inc, HJI Supply Chain Solutions, Pepsi, KICC, Fund for the Arts, Delta, The Trifecta, EY, NAC, Bosisi, Blank2Branded, Brooks Grain, Humana, Greising Law LLC, Proctor & Gamble, Greater Louisville Inc, Women's Business Enterprise Council Ohio River Valley, Women's Business Enterprise Council West, Women's Business Enterprise Alliance, Jet Stream Digital, Louisville Gas & Electric, Sustainable Metal Solutions, Pure Path Capital, Stinson, Equine Academy, and Today's Woman.
# # #