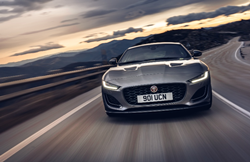 Recently, the 2021 Jaguar F-TYPE arrived at the dealership's showroom.
BOERNE, Texas (PRWEB) May 19, 2020
Jaguar Boerne has always had some of the best options when it comes to sports cars. Recently, the 2021 Jaguar F-TYPE arrived at the dealership's showroom. It is available as both a coupe and a convertible with outstanding interior features to make the drive more enjoyable. Both the coupe and the convertible are available in the following four trim levels: Base, First Edition, R-Dynamic and R.
There were only a few subtle changes made to the exterior of the Jaguar F-TYPE for the 2021 model year. These include redesigned headlights, a new front bumper, grille and a redesigned back end.
The 2021 Jaguar F-TYPE has three different engine options based on the trim level that is chosen. The first option is a 2.0-liter inline four-cylinder engine that produces 296 horsepower. The second option is a 3.0-liter V-6 supercharged engine that produces 380 horsepower. The last choice is a 5.0-liter supercharged engine that produces 575 horsepower.
Some of the new technology features that can be found inside of the 2021 Jaguar F-TYPE include a 12.3-inch reconfigurable instrument cluster and a 10-inch touchscreen with Intuitive Touch Pro Infotainment System. Customers will be very comfortable in the seats as the fabric is Windsor Leather and are able to be heated and cooled.
Interested parties who would like to learn more about the 2021 Jaguar F-TYPE can visit the dealership's website at https://www.jaguarboerne.com/ to view its current inventory. Individuals that have questions about the 2021 Jaguar F-TYPE can call 855-995-9962. Finally, the dealership is conveniently located at 32120 IH 10 West in Boerne for those who would like to speak with a team member in person.