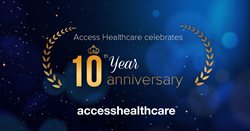 "The journey has been a phenomenal enriching experience. Today, we offer our more than 100 customers a comprehensive range of healthcare business processes, IT services. and intelligent automation solutions to hospitals, health systems, providers, revenue cycle intermediaries and payers."
DALLAS (PRWEB) January 28, 2021
Access Healthcare is celebrating its 10th Anniversary this year. As the company marks this milestone, we look back proudly at many significant achievements that have helped us acquire a leadership position as a revenue cycle transformation specialist.
In 2011, Access Healthcare was founded by Shaji Ravi along with a couple of associates who were consumed by a vision to bring technology and analytics-enabled solutions to help healthcare entities transform their administrative, clinical and financial processes.
"We now employ over 13,000 people in our 19 different locations in 3 countries, and together with our subsidiary Pacific BPO, we have established a leadership position in the healthcare space," said Shaji Ravi, the Founder, President and Managing Director of Access Healthcare. "The journey has been a phenomenal enriching experience. Today, we offer our more than 100 customers a comprehensive range of healthcare business processes, IT services. and intelligent automation solutions to hospitals, health systems, providers, revenue cycle intermediaries and payers."
A RICH AND EVENTFUL HISTORY
Although the offshore revenue cycle industry was relatively mature by 2011, service providers offered limited value beyond labor arbitrage, leaving a vast opportunity for technology-led disruptions. Access Healthcare lived by its purpose "To be the most admired healthcare services company in the world" from the very beginning.
Thanks to its leadership team's track record delivering financial success to healthcare institutions, the company quickly acquired several anchor customers. "When we had to decide to buy Access Healthcare or not, we were consumed by a vision to make a difference to the healthcare business. We had to take the solutions to the next level in process automation, transparency, and next-generation skills. With Access, we have built that process engine and are now looking to take on new areas in the healthcare industry", said Anurag Jain, the Chairman and CEO of Access Healthcare.
The team took advantage of modern and efficiency-enhancing IT solutions and built its integrated automation suite, echo. Access Healthcare's full-service automation stack includes foundational enabling technology (to manage workflow, knowledge, and human performance) and transformation solutions (artificial intelligence, machine learning, and robotic process automation). Together these solutions enable Access Healthcare to a significantly higher value to its customers.
A MARKET PIONEER IN HEALTHCARE PROCESS AUTOMATION
With echo, Access Healthcare offers path-breaking innovation across the chain of revenue cycle processes through solutions for prior authorization, computer-assisted-coding (CAC), automated claim status check, denial prevention and management, and physician credentialing. "Whether it is our recruitment and training processes to hire the best and scale our operations, or make an impact on the customer's business outcomes, we look for opportunities to eliminate manual processes. This zeal for automation has created the industry's most mature process engine that enhances human productivity on one side and brings the ability to configure and deploy bots at will," said Vardhman Jain, Vice Chairman of Access Healthcare.
Access Healthcare has received over 30 international and national recognitions for its focus on transformation, innovative solutions, and leadership quality. These include recognitions such as EY Entrepreneur of the year awards, Top 10 in Dallas Mid-Market 50 lists, and leadership positions in Everest Group's Healthcare Provider BPO – Service Provider Landscape with Services Peak Matrix™ Assessment in 2017, 2019, and 2020.
RENEWED FOCUS ON HOSPITALS AND HEALTHCARE SYSTEMS
The smart use of data is one of the critical success factors in the revenue cycle's future. Access Healthcare is working with customers and partners to create efficient and consistent revenue cycle processes that infuse predictability and assure healthcare institutions of healthy financial outcomes. "We are continually looking for ways to make revenue cycle management processes for hospitals and health systems more effective," said Kumar Shwetabh, President – Hospital Business and CEO of Pacific BPO, an organization that Access Healthcare acquired in 2018.
Access Healthcare has evolved from being a business process services provider to a solutions provider with in-depth knowledge of healthcare. The company aims to help hospitals and healthcare systems reimagine their revenue cycle and turn profitable.
ABOUT ACCESS HEALTHCARE
Access Healthcare provides business process outsourcing, applications services, and robotic process automation tools to healthcare providers, payers, and related service providers. The company operates from 19 delivery centers in the US, India, and the Philippines. Its 13,000+ staff are committed to delivering revenue cycle excellence by leveraging technology, emerging best practices, and global delivery. Based in Dallas, TX, Access Healthcare supports over 300,000 physicians, serves 80+ specialties, processes over $70 billion of A/R annually, and ascribe medical codes to over 30 million charts annually. To learn more, please visit accesshealthcare.com.