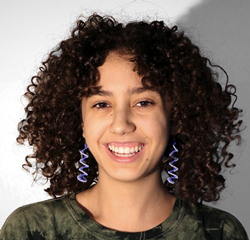 "We now face a golden opportunity to go beyond our impoverished rigidity, superstition, blind customs and dogma to attain super conscious wisdom from the Conscience–the key to solving all our challenges." Leonard Perlmutter, author of the soon-to-be released book, "Your Conscience"
AVERILL PARK, N.Y. (PRWEB) February 09, 2021
The American Meditation Institute (AMI) proudly announces that Jasmin Palmero of Miami, Florida is the winner of the 2nd Annual National Conscience Month Essay Contest. This year's honoree will receive a $1,600 scholarship toward higher education for describing her personal rewarding experiences of using her conscience as her sole decision-making guide.
In her award-winning entry, Ms. Palermo, a high school senior at the Design and Architecture Senior High School in Miami, Florida writes that by using her conscience to determine her thoughts, words and deeds, "superficial issues that once consumed me became less important than my personal growth. I also resolved to be more considerate of others, lessen my jealous tendencies, and began to perform random acts of kindness whenever possible, such as guiding my peers through an assignment or helping my neighbors carry their groceries."
National Conscience Month, observed each January, is intended to encourage individual citizens, governments, school systems, faith leaders, non-profits, community organizations and corporations across the United States to celebrate and raise awareness about the value of consciously using your conscience as an inspired guide in making better decisions.
According to Leonard Perlmutter, founder of The American Meditation Institute, author of the soon-to-be-published book, "Your Conscience," and originator of National Conscience Month says "All our thoughts, words and deeds that conflict with the messages of the Conscience invite pain and dis-unity, while all our thoughts, words and deeds that reflect the wisdom of the Conscience invite infinite Grace and unity."