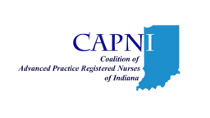 INDIANAPOLIS (PRWEB) November 05, 2021
On behalf of CAPNI (Coalition of Advanced Practice Registered Nurses of Indiana)
Every day, Indiana's nurse practitioners (NPs) and other advanced practice registered nurses (APRNs) work to save lives and improve the health of patients across the Hoosier state. The COVID-19 pandemic has elevated awareness of the essential role APRNs serve in our health care system.
To honor the heroic efforts of NPs during the COVID-19 pandemic and recognize National Nurse Practitioner Week (NP WEEK), November 7-13, Governor Eric Holcomb issued an official proclamation recognizing the critical role of NPs. NPs provide a wide range of care to America's patients in more than 1 billion visits annually.
"NPs and other APRNs have played an outsized role in protecting the mental and physical health of Hoosiers throughout the COVID-19 pandemic," said Angela Thompson, DNP, FNP-C, BC-ADM, CDE, FAANP, president of the Coalition of Advanced Practice Registered Nurses of Indiana. "We thank Governor Holcomb for his recognition of this critical work and encourage state leaders to expand access to the outstanding care APRN's provide. Over 2.1 million Hoosiers lack access to basic primary health care services in their communities. The nearly 8,000 APRNs in Indiana stand ready to address this problem and ensure that everyone has access to the high-quality care they deserve."
NP Week recognizes the contributions made by the nation's more than 325,000 licensed NPs to the health of patients nationwide. Indiana alone has nearly 8,000 NPs and other APRNs. These health care professionals practice in clinics, hospitals, emergency rooms, urgent care centers, nursing homes and private practices across the country — wherever patients are in need — and continue to provide front-line care during the COVID-19 pandemic. NPs assess patients, order and interpret tests, make diagnoses and provide treatment, including prescribing medications. As clinicians who blend clinical expertise with an added emphasis on disease prevention and health management, NPs are the health care provider of choice for millions of Americans.
To learn more about CAPNI, please visit https://bit.ly/3bB6Y9U. For more information on NP Week, please visit https://bit.ly/3mHPA9T.
###