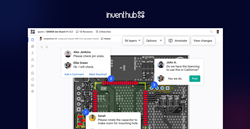 INVENTHUB A PLATFORM THAT FILLS THE GAP BETWEEN MANUFACTURING AND HARDWARE DEVELOPMENT TEAMS, RAISES PRE-SEED INVESTMENT
SAN FRANCISCO (PRWEB) January 27, 2022
Inventhub, a secure web-based collaboration platform for electronics product development, today announced that it has raised a pre-seed extension round of investment capital in 2021. This investment will help develop Inventub's aim of democratizing the process of electronics product design thus improving product quality and providing a faster time to market.
The investment round was led by existing investor Fatima Gobi Ventures. The round also saw participation from new investors including Ahmed Habib of Venture.d, Shehryar Hydri of Deosai Ventures, Yasser Bashir of Arbisoft, and Abbas Yousafzai of ConradLabs. Existing investors who returned for this round to back the company include Shoaib Zahid, Kashif Shakoor, and Anees Khawaja of Walled City Co, Tim Draper of Draper University Ventures, Taimur Rashid of Redis Labs, and Tayyab Malik from UBS Hong Kong.
The electronics industry is made up of fragmented and siloed processes. These siloed and often disparate systems make it difficult for individuals and smaller startups to develop new products. The explosion of digital products has also led to a new level of personalization and customization. Managing the necessary steps - from components procurement and design to manufacturing, assembly, and distribution - is both time-consuming and complex. Inventhub provides a remote-based collaboration of electronics design resources, improving the ability to be productive, organized, and share data easily. Inventhub enables multiple stakeholders to work with each other in a seamless manner, including ways to manage projects, components, bills of material, and partner resources.
Inventhub users begin by importing their electronics design files from various sources to the cloud. Stakeholders are then added to the platform for collaboration, allowing for a seamless exchange of data via various tools such as visualization, annotation, versioning, real-time updates, releases, bill of materials, and partner spaces. The platform enables designers, engineers, manufacturers, procurement, suppliers, and distributors to coordinate their work.
Additionally, with Inventhub's advanced development tools, the platform serves as a catch-all design database for hardware design resources built and backed by a community. Inventhub aims to serve as the largest design database and hardware resource search engine of community-backed material.
Inventhub offers two products: one built for the community and professionals as well as a workspace for businesses and enterprises from the perspective of management and security.
"Today's consumer demands require software-assisted hardware solutions, while the hardware industry requires sophisticated and advanced tools to innovate at scale," said Usama Abid, Co-founder & CEO of Inventhub. "With Inventhub, we are moving the hardware industry forward by providing an integrated tool-set in one platform while building the largest community-backed database of hardware designs and resources. This will enable rapid design and development of hardware products."
Co-founders Usama Abid and Usman Maqsood have experience working on several electronic hardware products, giving them a front-row seat to the typical setbacks in the industry. They set out to address the lack of standardization in the product development process, process documentation & issues of scalability that take away from the conceptual clarity of what works in the electronics hardware development cycle. Their focus with Inventhub is to put the effort on embracing cloud-based tools and remote development.
"We created Inventhub to move the electronics hardware industry forward," said Usman Maqsood, Co-founder & CTO of Inventhub. "With an acceleration in remote work, processes have evolved to allow for a new wave of change on how we collaborate. This investment for Inventhub will be used to fill the gap from proof of concept to production within the electronic design industry."
Inventhub's version control with access management in the platform has made it integratable with existing ecad tooling. Inventhub has seen massive active user growth with 45min+ usage time per session every week and commercial validation from a growing paid customer base. The current focus is to ramp up the marketing effort to build community and work with B2B customers to improve the platform.
"Understanding the importance of digital transformation along with the true value of collaboration in the electronics hardware industry is still a challenge. The global chip shortage started due to increased consumer demand. However, supply chain challenges exist not only because of demand - they originate from neglect of design processes. The pandemic just exacerbated the issue," adds Usama Abid. "While some industries have recovered quickly from Covid due to enablement and advanced tools helping them to work fully or hybrid remotely, the hardware industry has been deprived of these collaboration tools and effective processes. Inventhub fills that gap."
For more information, please visit http://www.inventhub.io or contact Usama at press@inventhub.io.
####
About Inventhub
Inventhub is the first and only integrated collaboration tool for rapid electronic hardware design. Our platform acts as a collaborative engine that enhances the developer experience by eliminating unnecessary complexity and inefficiencies typical of competing solutions, which are tied to specific design tools and operate within enclosed environments.
Inventhub takes an open, vendor-agnostic approach that enables innovators to work seamlessly, in the same ways, and in a uniform environment, anywhere in the world. Inventhub delivers proactive, actionable insights and best-in-class transparency into your data, regardless of the design tools your organization has in place, helping you build better products in less time.