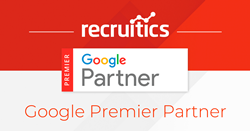 "Our teams work hard to deliver world-class results for our clients, and we are proud to celebrate our experts as they manage successful campaigns using Google products."
NORWALK, Conn. (PRWEB) April 06, 2022
Recently, Google recognized the achievements of top-performing digital marketing partners across the globe by awarding Premier Partner status as part of the new Google Partners program. Recruitics, a global, data-powered recruitment marketing platform that ensures world-class results for their clients, is among the recent honorees to reach this level of service. Explore the full range of offerings on their website.
"We are ecstatic to receive the Google Premier Partner distinction," says Recruitics CEO, Josh Gampel. "Our teams work hard to deliver world-class results for our clients, and we are proud to celebrate our experts as they manage successful campaigns using Google products."
The Google Partners program has undergone significant changes for 2022, including redefining what it means to be a Premier Partner through new, advanced program requirements and offering new Premier Partner benefits to support growth and success with Google Ads.
Speaking to the program's importance, Davang Shah, Senior Director, Google Ads Marketing says, "Congratulations to our Premier Partners for being among the top 3% of Google Partners in the US. These companies stand out based on their commitment to developing product expertise, building new client relationships, and helping their current clients grow. We look forward to supporting them as they help their customers succeed online."
Recruitics is part of a select group of Premier Partners in the Google Partners program. This program is designed for advertising agencies and third parties that manage Google Ads accounts on behalf of other brands or businesses. Its mission is to empower companies by providing them with innovative tools, resources, and support to help their clients succeed and grow online.
ABOUT RECRUITICS
Recruitics is a data-powered recruitment marketing platform that makes it easy for the world's leading brands to attract and hire great talent. Recruitics revolutionized recruitment advertising with the introduction of the industry's first programmatic buying platform in 2012. Since then, Recruitics has helped thousands of companies find, attract, and engage millions of job seekers. Today, Recruitics continues to lead the recruitment marketing industry with its state-of-the-art data optimization and analytics platform.
LinkedIn | Twitter | Facebook | Instagram