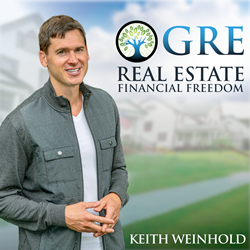 Financially-free beats debt-free.
ANCHORAGE, Alaska (PRWEB) April 06, 2022
Over time, rental property pays five ways—appreciation, cash flow, loan amortization, tax benefits, and inflation-profiting on the fixed-rate debt.
That's what Show Host Keith Weinhold and his collaborators have espoused to listeners in 188 nations every week since 2014 on the Get Rich Education podcast. They also help listeners find the properties conducive to the strategy.
Real estate has made more ordinary people wealthy than anything else. One can simply buy and hold carefully-selected "turnkey" properties without being the rehabber or landlord.
"In inflationary times, it makes sense to get out of dollars. Get into real assets. They hold their value while currency's purchasing power is being diminished," says Weinhold.
One successful technique that challenges conventional wisdom is getting into "good debt." It's not unsecured debt like credit cards or student loan debt.
Rather, it's mortgages tied to rental properties. The tenant's rent makes the mortgage payment. The surplus becomes one's passive income.
With mortgage debt, one doesn't just get their money working for them. They can ethically get other people's money working for them—the bank, the tenant, and the government for tax incentives. That's how everyday investors can really get ahead.
The show's success through 4 million listeners can be attributed to the mindset of rather than only living below one's means, grow those means.
Listening to "Get Rich Education" is free on any podcast platform or by downloading the phone app.