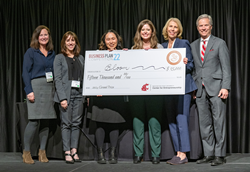 "I am impressed by the diversity within our founder teams this year, many of whom are not from traditional business fields of study. "
PULLMAN, Wash. (PRWEB) April 29, 2022
Innovative solutions to improving life after COVID was a collective theme at Washington State University's 19th annual Business Plan Competition Thursday, April 28. Four of the top five college teams developed apps that address issues ranging from health care and scholarships to improved event parking – benefiting anyone with a mobile device.
The other team in the top five has developed a superior cheesecake business – benefiting everyone.
Bloom walked away as the winner of the Herbert B. Jones $15,000 grand prize.
Developed by WSU engineering seniors Zaya Tsengelmaa and Danielle Hurley, the app matches first-generation students in Washington state with regional scholarship providers, increasing their chances of securing a local scholarship that has been overlooked by national scholarship websites.
The WSU Center for Entrepreneurship (CFE) hosted the hybrid multi-stage competition where 110 student venture teams competed in three different leagues, representing nearly 297 students from colleges and high schools throughout Washington and Idaho. More than 120 entrepreneurs, investors and industry leaders joined virtually and in person to judge the competition.
Venture teams in the Open League and the High School league participated in two fully virtual rounds, a screening round and final presentations on Friday, April 22. Venture teams in the WSU College League competed virtually in two preliminary rounds where the final five teams advanced to the in-person finals hosted on WSU's campus, Thursday, April 28.
Student teams presented their business ideas and competed for cash and in-kind prizes totaling more than $75,000.
The winning teams for all three leagues were invited to an awards banquet featuring keynote speaker Trey Lauderdale, serial entrepreneur and investor, immediately following the College League final round. In addition to the College League's Herbert B. Jones grand prize winner, two other teams earned first place awards and grand prize money at the awards banquet.
The University of Washington team Ultropia won first place in the Open League. Led by cofounders Cody Birkland, Lloyd Dees and Amy Swanson, Ultropia is developing the first ultrasonic all-in-one washer and dryer that will help people with limited access to laundry machines.
In the High School League, Perfect Pillow won first place. Sammamish High School students Corentin Ogier, Kelan Palmer and Chetan Sidhu are the cofounders of Perfect Pillow, a company that sells custom pillows.
Student venture teams in this year's competition represented diverse academic and socioeconomic backgrounds, majors, genders and ethnicities. Founding teams represented more than 20 different academic majors including construction management, multimedia journalism, electrical engineering, hospitality, software engineering and many more. In addition, teams included many first-generation students, student-athletes, and traditional and nontraditional business students.
"I am continually impressed by the high caliber teams that enter the competition each year and the innovative ideas they present," said Marie Mayes, director of the WSU CES. "I am even more impressed by the diversity within our founder teams this year, many of whom are not from traditional business fields of study. Their success testifies to the value of business education as a complement to a student's primary area of study. An entrepreneurial mindset prepares students for success in existing firms and startups alike."
Ideas presented by this diverse group of students included a portable, battery-powered ice pack, image processing services to assess damages to rental cars and houses and a recycling shower utilizing less than two gallons of water.
Academic and industry professionals judged teams based on:
· Presentation
· Development of a solution for a customer problem
· Value proposition
· Market opportunity
· Competitive advantages
· Go-to-market strategy
· Financials
· Investment analysis
The teams also were evaluated on the merit of their ideas and business plans.
In addition to sponsoring the grand prizes, the Herbert B. Jones Foundation sponsored merit awards worth $2,500 each for best-written plan, best presentation, best technology venture and best social impact business. Boeing Employees Credit Union (BECU) sponsored a FinTech merit prize, awarded to the team that presented the most innovative idea in the financial technology space. In the High School league, the Morning Star Foundation sponsored all the prizes except for the grand prize, which is sponsored by the Herbert B. Jones Foundation and Idaho Capital Ventures.
The winning teams are:
WSU College League:
1. Bloom, $15,000
An app that matches first-generation students In Washington state with regional scholarship providers, increasing their chances of securing local scholarships.
2. DWN, $10,000
A social media platform that helps college students find campus activities and events that help create friendships and connections.
3. GUT CHECK, $7,000
An app that provides personalized health and fitness regiments based off food sensitivity.
4. Syr's Signature Creations, $4,000
A gourmet cheesecake company that offers by-the-slice and special order fresh and preservative-free desserts in the Pullman area.
5. SpotKEEP, $2,000
A peer-to-peer mobile app that connects those in crowded cities and urban areas who need parking with those who have parking spaces available to rent.
Open League:
1. Ultropia, $5,000
The first ultrasonic all-in-one washer and dryer to help people with limited access to laundry machines.
High School League:
1. Perfect Pillow, $5,000
A customized pillow.
2. Coals Lumber Co., $2,000
A firewood and professional tree removal company.
3. Freeze on the Go, $1,000e
A portable, battery-powered icepack.
4. Frozen Games, $500:
A unique dining and social experience that combines frozen yogurt and casual or competitive gaming.
5. The Forge Jewelers, $250
An online Jewelry store that sells rings, earrings and necklaces pennants and takes customer requests.
Merit Prize Winners:
· Best Written Plan: GUT CHECK, $2,500
· Best Presentation: Bloom, $2,500
· Best Technology Venture: two-way tie: DWN and RetroSpect, $1,250 each
· Best Social Impact Business: Bloom, $2,500
· BECU Best FinTech: Bloom, $5,000
Media Contacts:
Marie Mayes, director, Center for Entrepreneurial Studies, WSU Carson College of Business, 509-335-5628, mailto:mmayes@wsu.edu [mmayes@wsu.edu __title__ null]
Sue McMurray, assistant director of communications, WSU Carson College of Business, 509-335-7578, mailto:sue.mcmurray@wsu.edu [sue.mcmurray@wsu.edu __title__ null]