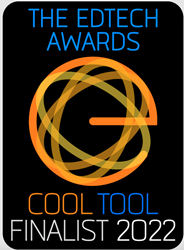 "We've already served nearly 2 million interactions to students through the tool with each one having the potential to change a student's outcomes. Students are at the core of our work and people are noticing." - Mike Soldan, COO of Shmoop
SCOTTSDALE, Ariz. (PRWEB) April 21, 2022
Shmoop Heartbeat, a research-backed tool that identifies how non-academic factors of a student's life deeply impact their ability to perform academically, is a recipient of the Edtech Digest Edtech Cool Tool: Adaptive Technology Solution finalist award.
"Heartbeat continues to be recognized by leading sources because it works. We're extremely proud to have built a tool that is not only innovative but helps students and educators every single day. We've already served nearly 2 million interactions to students through the tool with each one having the potential to change a student's outcomes. Students are at the core of our work and people are noticing." said Shmoop's COO, Mike Soldan.
The EdTech Awards recognize people for outstanding contributions in transforming education through technology to enrich the lives of learners everywhere.
Celebrating its 12th year, the US-based program is the world's largest recognition program for education technology, recognizing the biggest names in edtech – and those who soon will be.
"As events unfold on the world stage that seem to inch ever closer to a precipice unknown, we are reminded that the leaders and innovators of education technology have always worked on the edge," said Victor Rivero, who as Editor-in-Chief of EdTech Digest, who oversees the program.
Since its release in early 2021, Heartbeat by Shmoop has received the formidable Learner Variability Certification from Digital Promise, an EdTech Award from EdTech Digest in the "Cool Tool" category, and a coveted W3 Award. Shmoop was also recognized by Learnosity as a, "trailblazer in the social and emotional learning (SEL) space," selected as a finalist for the ASU GSV Cup Competition, and most recently was able to share more about Heartbeat's™ creation at ASU GSV 2021.
About Shmoop
Shmoop provides schools with online courses, test readiness, and intervention solutions focused on personalized learning and college and career readiness, all designed for students and used by teachers for both in-person and remote learning. Shmoop's research-based classroom technology, Heartbeat™, focuses on a student's emotional health, cognitive position, and background to improve their ability to achieve academically (http://www.shmoop.com).