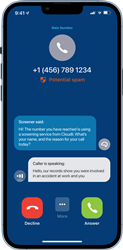 Cloudli TalkNText is the first unified communications service to offer AI-powered call screening capabilities for business users across iOS, Android and desktop devices.
NEWARK, Del. (PRWEB) April 27, 2022
Cloudli Communications, Inc., a leading provider of voice, data and messaging solutions, today announced the launch of its new Call Screener feature, available as part of its TalkNText voice and Business Texting app. It enables Cloudli TalkNText users to know both who is calling and the reason for the call, allowing them to make better decisions in real time about which calls they choose to answer and when.
When the Call Screener feature is activated within the Cloudli app, the caller is prompted to state their name and the reason for their call via the Call Screener virtual assistant. The verbal response is transcribed and scanned in real time by the AI-powered assistant and presented to the Cloudli user for review. Armed with this enhanced contextual information powered by KONTXT™ by RealNetworks, the user may then choose to answer the call or decline and send it straight to voicemail. This allows small businesses (SMBs) to avoid losing time to unsolicited sales calls, spam and other nuisance calls, and instead focus on answering customer and client calls during business hours.
In contrast to other call screeners, Cloudli Call Screener includes contextual call information in addition to identifying the caller's name. The contextual call information is provided by KONTXT AI, which features a unique voice fingerprinting solution that combines audio spectrum analysis and speech patterns with natural language processing to help determine the intent of the caller. Cloudli Call Screener is not tied to a specific operating system or mobile carrier, enabling SMBs to implement Call Screener across iOS, Android and desktop devices.
Call Screener can be implemented for all inbound calls received through Cloudli TalkNText, or may be activated only for those calls that are not from contacts within the user's address book, eliminating the need to block callers on a per number or contact basis. And Call Screener does not rely on the need for blanket call blocking policies – such as sending all unknown calls to voicemail – a critical requirement for small businesses as unknown callers may be new customers.
"Small businesses face intense pressure in today's chaotic world, and time is one of the most precious resources SMBs have," notes Gavin Macomber, President and CEO of Cloudli Communications. "Cloudli's Call Screener lets small business owners take back control of their day by always knowing who's calling and why. We're proud to partner with RealNetworks to leverage contextual call information to provide AI-powered call screening across Cloudli's iOS, Android and desktop apps."
Cloudli TalkNText includes a suite of features that complement the Call Screener, such as business texting, shared phone numbers, automated attendant, text auto-replies for missed calls and messages, business hour settings and more. These features are bundled to deliver a cost-effective, full-featured business communications solution at a savings of as much as 87% compared to when purchasing separately.
"Cloudli's innovative SMB-tailored business communications solutions are a natural fit with RealNetworks' call screening technologies," explains Michael Bordash, CTO & GM of KONTXT. "At KONTXT, our mission is to bridge our experience in anti-spam/anti-fraud machine learning with proactive management of voice and text messages. Our unique AI approach provides an optimal experience for subscribers; our integration with Cloudli goes beyond simple phone number block lists and voice captcha, which are easily circumvented by criminals. KONTXT analyzes the voice and the intent of the human or robocaller, and helps customers make a fast and accurate assessment to help protect their time and assets."
SMBs can try Call Screener today as part of the Cloudli TalkNText's free 30-day trial.
About Cloudli Communications
Cloudli Communications, Inc. delivers feature-rich communications solutions to businesses of all types and sizes, with a track record that spans decades. Today, our solutions include work-from-anywhere unified communications apps for SMBs, VoIP connectivity solutions optimized for businesses of any size and digital fax solutions that leverage new technologies without disrupting trusted and established workflows. Serving over 7,000 customers in the United States and Canada, Cloudli helps businesses across North America better communicate with their customers – how, where and when they want – without compromising security, reliability and efficiency. Find us on the web, LinkedIn, Twitter, Facebook, Instagram and YouTube.
Cloudli Communications Inc. is owned by CPS Capital, a Toronto-based private equity firm.
About RealNetworks' KONTXT
Building on a 25+ year legacy of digital media expertise and innovation, RealNetworks® (NASDAQ: RNWK) has created a new generation of products that employ best-in-class artificial intelligence and machine learning to enhance and secure our daily lives. KONTXT® (KONTXT.com) is Real's patented NLP (Natural Language Processing) platform for categorizing and blocking fraudulent text messages, images, and voice calls, to help carriers build customer loyalty and drive new revenue through text message classification and antispam. For information about our other products, visit http://www.realnetworks.com.
RealNetworks, Metcalf, and KONTXT are registered trademarks of RealNetworks, Inc. All other trademarks, names of actual companies and products mentioned herein are the property of their respective owners.