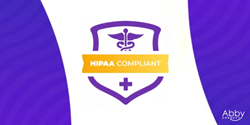 "[Privacy] shouldn't compromise the experience your patients have over the phone. Abby can ensure that your patients always have a professional and friendly receptionist to speak with while your office and team focus on operating the practice." - CEO, Nathan Strum
LAS VEGAS (PRWEB) April 28, 2022
Privacy is more important than ever in today's world. Patients deserve confidentiality, and businesses are legally required to provide it. HIPAA has served as the highest standard for information privacy since enacted in 1996. Abby Connect (https://www.abby.com) is proud to announce that our virtual receptionist services are now HIPAA-compliant.
Privacy breaches endanger the financial and informational well-being of patients; they can also cost businesses in significant ways. Beyond sacrificing built-up trust, HIPAA violations can potentially cost practices thousands in fines.
Medical and dental practices are all too familiar with the potential risks of HIPAA violations. But unfortunately, even those committed due to simple ignorance can attract fines up to $5,000 per instance. All told, HIPAA violation penalties totaled $5,982,150 in 2021 alone.
Running a top-tier medical or dental practice means forging close relationships with patients based on mutual respect and trust. People have higher expectations than ever for customer service experiences in today's service economy. Unfortunately, the medical industry has notoriously lagged in this context. Patients consistently report frustrating, unpleasant experiences with medical answering and reception services.
Clients deserve HIPAA-compliant privacy with the same stellar experience and approachable concierge service Abby has always provided. As Abby CEO Nathan Strum puts it, "[privacy] shouldn't compromise the experience your patients have over the phone. Abby can ensure that your patients always have a professional and friendly receptionist to speak with while your office and team focus on operating the practice."
Businesses don't have to choose between information security and customer service. Patients deserve both. "Without these safeguards," Strum warns, "you risk a security breach that could expose your patients' information and jeopardize your reputation and credibility. But don't just select any HIPAA-compliant service. Implementing an answering service with no focus on customer service could leave a bad taste in your callers' mouths and deter new business. Instead, invest in a receptionist service which focuses on preserving your patient relationship and converting new business."
HIPAA compliance is one more facet of Abby's ongoing mission to provide professional and personable customer service that protects patients and medical practices. Abby's receptionists integrate seamlessly into any team, leaving physicians and staff free to focus on what they do best with peace of mind that patients' information will always stay protected.
Click here to learn more about Abby's HIPAA-compliant live virtual receptionists.
For questions pertaining to Abby's other core capabilities, call tel. 8773035757.