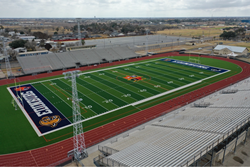 "At Edinburg CISD we've contracted with Hellas on different projects throughout the years," says ECISD Superintendent Dr. Mario Salinas. "The Hellas design build and construction teams always can be counted on to produce at the highest level of quality."
EDINBURG, Texas (PRWEB) May 13, 2022
Economedes, Edinburg, Edinburg North and Vela High Schools are excited to welcome crews from Hellas Construction® for renovations to their football/soccer multi-purpose fields. The Edinburg Consolidated Independent School District awarded Hellas Construction the $3.7 million contract to replace the grass at four multi-purpose athletic fields with Matrix Helix® synthetic turf and RealFill infill.
"At Edinburg CISD we've contracted with Hellas on different projects throughout the years," says ECISD Superintendent Dr. Mario Salinas. "The Hellas design build and construction teams always can be counted on to produce at the highest level of quality."
Matrix Helix has curled monofilament fibers and shape memory technology. The curled fibers are resilient, stable and the fibers bounce back after use to secure the infill, prevent migration and 'splash-out' for a uniform, aesthetically pleasing playing surface. The infill consists of a layer of sand with a layer of dust-free SBR cuboidal rubber granules that minimize fly-out and splashing, conserves water and provides a predictable playing surface.
Hellas installed Matrix Helix synthetic turf at the multi-purpose Richard Flores Stadium in 2020 where all four high schools currently participate in athletics. Edinburg CISD chose to Hellas to install a paved into place Cushdrain® shockpad, which not only helps the field drain better but extends the life of the surface.
Hellas' Matrix Helix® synthetic turf has been trusted by nine NFL teams for their game field or practice facilities including SoFi Stadium home of the LA Rams and LA Chargers, AT&T Stadium home of the Dallas Cowboys and the Star practice facility in Frisco, plus NRG Stadium home of the Houston Texans and the Houston Methodist Training Center.
Hellas Construction is also the Official Artificial Turf Provider of the Las Vegas Raiders and Allegiant Stadium and Hellas installed multiple surfaces at the Intermountain Healthcare Performance Center where the Raiders headquarters is located in Henderson, Nevada.
Hellas also installed Matrix Helix turf at the practice facilities for the Kansas City Chiefs, Tennessee Titans, Washington Commanders, Jacksonville Jaguars and Miami Dolphins.
Hellas Construction takes a turn-key approach to athletic facilities. Hellas owns and operates company owned construction/installation equipment. The firm manufactures its synthetic turf, track, and court surfacing materials at three Hellas factories in the United States.
Edinburg Consolidated Independent School District is headquartered in the city of Edinburg, Texas, United States. Edinburg is the second largest city in Hidalgo County. The district has over 5,000 employees and the superintendent is Dr. Mario Salinas, who has served as an Assistant Superintendent and as a coach for many years.
Hellas Construction, Inc. headquartered in Austin, TX, is the largest vertically-integrated sports construction contractor in the United States, specializing in the general construction of sports facilities and sports surfaces. The firm owns and operates its own heavy construction equipment staffed by specially trained and certified employee crews. Hellas champions innovative artificial turf manufacturing, base construction, field, track and tennis planning, along with installation and maintenance. hellasconstruction.com
AT&T Stadium located in Arlington, Texas opened in 2009 and is the largest NFL stadium ever built. Designed by HKS Architects, AT&T Stadium is 3 million square feet and has a capacity of over 100,000 people. The stadium features signature monumental arches, an expansive retractable roof, massive glass retractable end zone doors, a distinguishing canted glass wall, and the world's largest center-hanging HD video board.