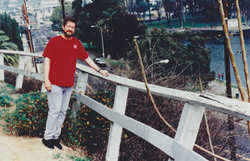 What the events documented in Testament make known is that the God Force manifests in unusual ways around individual people to make possible metaphysical insights for everyone.
LOS ANGELES (PRWEB) May 23, 2022
Mark Russell Bell interviewed a family experiencing a contemporary 'talking poltergeist' haunting in a small Oklahoma town in August 1995. What followed is unique among the annals of transcendental communication and the paranormal as chronicled in Testament.
After witnessing many phenomenal occurrences during his trip, Bell returned home to Los Angeles only to find the mysterious manifestations continuing to take place. The family used the nickname 'Michael' for the most prominent manifesting entity and Bell recognized a correlation to the name of the Archangel Michael, a representation of an angelic Force interacting with mankind throughout the ages.
Contemplating all that had happened to him, Bell realized that the events constituted an initiation to expanded consciousness about spiritual, metaphysical and cosmological aspects of life and the state of being. Bell then left behind his career as a movie studio publicity writer to dedicate himself to helping people expand their understanding of life. He decided the now-planned nonfiction case study book should begin with verbatim transcripts of the Oklahoma interviews. He continued conducting interviews along with tape recording and transcribing his ongoing spontaneous reactions to the diverse anomalous occurrences that he personally observed from day to day.
The contemporary Bell / McWethy family that was interviewed by the author in 1995 was seen later that year in a 30-minute segment on the ABC special "Ghosts, Mediums, Psychics: Put To The Test" and the footage also was featured in an episode of "20/20."
Bell observes: "The God Force has made my life an open book so that contemporary people may expand their consciousness about life. My 'paranormal initiation' brought the realization that the Source of All Being is reflected in the panoply of earthly blessings, divine creativity, scientific and technological advancements, and transcendental communication cases throughout the centuries. Reading about the Gifts of the Spirit chronicled at my websites is a way to learn about experienced Divine Love without limitation."
'Channeling'/'mediumship' cases that encompass use of the expression 'God Force' include those of Edgar Cayce, Leslie Flint, Eileen Garrett, Helen Greaves, Thomas Jacobson*, JZ Knight*, Gladys Osborne Leonard, Jach Pursel*, Estelle Roberts, Jane Roberts, Pat Rodegast*, Neville Rowe and Kevin Ryerson*. (*contemporary cases)
Bell would eventually discover correlating word and number patterns are noticeable among many famous cases of transcendental communication; for example, 'the Michael Pattern' includes associations with Nostradamus, John Dee, the Fox Sisters associated with the Spiritualism Movement, Madame Blavatsky, Edgar Cayce, Guy and Edna Ballard, Leslie Flint, JZ Knight, Mark Probert, and the 'Messages from Michael' Ouija Board communication case.
Bell comments: "What the events documented in Testament make known is that the Christ Force manifests in unusual ways around individual people to make possible metaphysical insights for everyone. All individual living things are interconnected through a 'shared subconscious and Superconscious spiritual Oneness' that brings to manifestation people representing the 'other side' through individual human 'channelers.'"
Bell's blog is entitled Metaphysical Articles: Interesting Articles, Links and Other Media. He began regularly reporting about extensively documented case chronologies of so-called 'paranormal' or 'supernatural' phenomena in 2009 so that readers could become acquainted with a variety of detailed authentic cases. Beyond incarnations on Earth there is perpetual existence in the ascended realms of existence — you are a 'consciousness unit' and unique 'iota' of the God Force actively participating in your life. Bell suggests that people become knowledgeable about transcendental communication cases that offer descriptions of 'where you'll find yourself after the conclusion of Earth life.'
The website for the Internet edition of the Mark Russell Bell case study is testament.org. In 2021, Bell added a new online page offering an Articles Index of Subjects and Titles with Links. The case study book and blog articles subtly raise the question: 'If you could help make known the opportunities of the New Age, would you make this part of your path?'
Bell was a child when he first experienced several occurrences of so-called 'paranormal' or 'unexplained phenomena.' After receiving awards as a high school journalist, Bell became a cinema student at USC. Prior to becoming a metaphysical author, he worked as a movie studio publicity writer for such Paramount films as "Braveheart," "Forrest Gump," "Ghost," "The Godfather, Part III," "Indiana Jones and the Last Crusade" and the "Star Trek" series. Bell's twin brother is Michael Russell, whose filing of a lawsuit concerning a Hollywood awards show was reported throughout the mainstream news media in 2011. In comparison, Bell's Testament news releases dating from January 1997 have all been to-date overlooked by newspaper and television commercial mainstream media journalists.