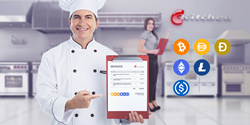 Cryptocurrency Enters the Commercial Kitchen Industry
NEW YORK (PRWEB) June 02, 2022
In a continuing trend where more businesses are accepting cryptocurrencies as valid payments, CKitchen, a leading restaurant equipment provider, has joined the foray; becoming the first to do so in the restaurant supply industry. The company is considered to be amongst the most trusted equipment suppliers in the USA. Adding cryptocurrencies shows their flexibility in accepted payment methods, a move welcomed by both their customers and the ever-growing crypto community which seeks to bring new partners into their economy.
In partnership with Coinbase, CKitchen.com will accept cryptocurrencies like Bitcoin (BTC), Bitcoin Cash (BCH), Ethereum (ETH), Dogecoin (DOGE), USD Coin (USDC), Dai (DAI), and Litecoin (LTC). Keeping track of evolving market trends, the company's executive board arrived at the landmark decision to make payments easier for their diverse clientele. By accepting cryptocurrency payments, the company will also hold the offered options on its balance sheets, signaling a major shift in the commercial kitchen equipment industry. With an already fast-paced transition to digital payments and currency options during the pandemic, the restaurant industry is likely to switch to decentralized payment methods now more than ever.
With nearly four decades of commercial success and dedicated customer relationships, CKitchen's leadership intends on furthering the firm's focus on customer satisfaction and comfort. Since the rise of alternative currencies and blockchain technology, adaptability has regained the center stage for businesses that intend to remain flexible. Taking into account the restaurants and the food entrepreneurs of the future, cryptocurrencies are an unmissable component of a rising tech-influenced economy. CKitchen's groundbreaking decision comes as a refreshing move in the ever-evolving world of fintech and the post-pandemic restaurant industry.

CKitchen.com, one of the country's largest kitchen equipment retailers, now accepts all major cryptocurrencies through Coinbase.
The partnership comes in the wake of a rapidly evolving industry that is warming up to decentralized finance
The welcome change is a first in the industry, allowing more leeway for regular customers and professional restaurateurs to support their businesses with affordable, high-quality equipment
About CKitchen: Originally set up as a brick-and-mortar business over 38 years ago, CKitchen.com has grown exponentially to become one of the most trusted restaurant equipment suppliers in the country. With clients spanning the length and breadth of the USA, CKitchen has worked with thousands of establishments and continues to provide top-notch kitchen equipment to every customer. The company's primary focus is built around customer requirements and satisfaction. By providing expert advice and assistance to establishments like restaurants, hotels, and institutional facilities, CKitchen has nurtured a reputation par excellence. With detailed online catalogs and on-call professional guidance for restaurateurs looking to better their business, the firm is a one-stop shop for everything in commercial cooking. Visit http://www.ckitchen.com for a one-of-a-kind shopping experience and premium restaurant equipment at affordable prices.