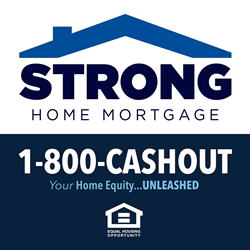 Our goal is to present a range of options for homeowners to convert their home equity to cash.
MANASSAS, Va. (PRWEB) June 03, 2022
Strong Home Mortgage LLC, a veteran-owned and consumer-direct mortgage lender, today announced the launch of 1-800-CASHOUT and 1-800-CASHOUT.com.
The toll-free number and domain name are promoted under Strong Home Mortgage's brand, led by CEO Roger Jones and President Mike Peoples. The company was founded in 2018.
According to the Federal Reserve, American homeowners are sitting on $23.6 trillion¹ in home equity, with $2.6 trillion² gained just in the last year alone. Additional research estimates that homeowners have gained $67,000 in "tappable equity" during 2021.²
For the 44% of Americans³ now considered "equity-rich", Strong Home Mortgage LLC offers more ways for homeowners to access their home equity.
"Our goal is to present a range of options for homeowners to convert their home equity to cash," says Peoples. Funds can be used to pay-off high-interest credit cards, renovate a home, or create a safety net for the unexpected. There are no restrictions on how homeowners can use the cash.
Strong Home Mortgage offers traditional cash-out refinances, home equity lines of credit (HELOC), and home equity loans (HELOANs). "There are even ways for homeowners to cash out while keeping their current low-rate mortgage intact," says Jones.
A national broadcast media campaign highlighting Strong Home Mortgage's 1800CASHOUT domain and product offering begins June 6th in select markets.
About Strong Home Mortgage LLC
Strong Home Mortgage is a veteran-owned, consumer-direct lender licensed in 46 states and Washington D.C. Borrowers enjoy single point-of-contact communications during the home mortgage process with fewer handoffs, more availability, better dialogue, and smoother closings. The company averages 4.8 stars across 6,000+ reviews. This includes 97% recommended on Lending Tree where Strong Home has been recognized with a "Top 10 Lender in Customer Satisfaction" badge for three quarters running [Q3/Q4 2021, Q1/2022].
Strong Home Mortgage LLC| NMLS # 1675638|nmlsconsumeraccess.org| Equal Housing Lender| RI Licensed Lender│ MA Lender License # ML-1675638│ AZ Mortgage Banker License # 0950815│ Licensed by NJ Dept. of Banking and Insurance| CA loans made or arranged pursuant to a California Financing Law License
Sources:
¹ FRED Economic Data, St. Louis Fed. Households; Owners' Equity in Real Estate, Level, 2022
² Black Knight, Inc., 2021 Sees Record $2.6 Trillion Tappable Equity Gain, 2022
³ Attom Data, Homeowner Equity Grows Again Across U.S. in First Quarter, 2022