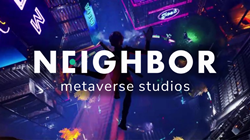 LAGUNA BEACH, Calif. (PRWEB) June 06, 2022
Background of the establishment of NEIGHBOR
Sold and distributed by Epic Games, "Fortnite" is the world's largest online game with over 350 million users. 50% of the user's play time is free to create a city in "Creative Mode" where you can create an original space in the world of Fortnite or create and play original games.
The use of corporate PR using the Metaverse space created in "Creative Mode" is increasing worldwide, and it is expected that the use of Fortnite by companies will increase in the future.
At NEIGHBOR, we create a metaverse space using Fortnite for corporations. We also support events and PR using the metaverse space of NEIGHBOR.
*"NEIGHBOR" is not sponsored, supported or operated by Epic Games.
World-class creators gather
With Team VERSE and Team Connect, which have the highest level of name and technology among Fortnite's creative teams, NEIGHBOR was established as a studio that can handle large-scale metaverse production.
In addition to the two teams, NEIGHBOR's own creator network forms appropriate project members as needed. We produce a wide range of genres of Metaverse.
Team VERSE: A production team consisting of Mr. MNECO and Mr. Ruaru, whose maps have been officially adopted for "Fortnite", and Mr. CaPer and Mr. Kenz, who are popular with Fortnite users due to their high technical capabilities. We also create city and fictitious space modeling and game production with world-class technology.
Team Connect: The Shibuya map that reproduces the actual city has been used by domestic companies. Evangelion's "Neo Tokyo-3" has attracted attention both at home and abroad, as it has a reputation for creating a fictitious city for anime and games. There are five team members, Mr. Yanosu, Mr. Earth, Mr. Teto, and Mr. FRISK.
Thoughts on establishment
When the Internet was born, homepages were often asked "for what purpose?", but now it is natural for corporations to create corporate websites and homepages for products and services. The era when companies use the Metaverse with the questions of "What can they do? What do they do?" is only for now, and in the next few years, the Metaverse will have to become "natural".
For Generation Z, it already exists as a living space that is continuous with reality and where you can meet and play with friends in the Metaverse and find what you want to do. NEIGHBOR will develop its business to make the Metaverse space "natural" and to create new experiences in the Metaverse.
Contact for inquiries regarding this release
NEIGHBOR
https://neighbor.gg/
mail: info@neighbor.gg
*"NEIGHBOR" is not sponsored, supported or operated by Epic Games.