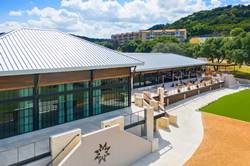 BOERNE, Texas (PRWEB) June 08, 2022
Crescent Hotels & Resorts announced the addition of Tapatio Springs Hill Country Resort to its lifestyle portfolio, Latitudes: Lifestyles by Crescent. Built by "King of Country" George Strait, the 220-acre resort embodies the essence of Texas. Tapatio Springs is a cherished property, suitable for leisure and group guests with its unbeatable programming, nature focus, award-winning golf course, farm-to-fork fine dining and wellness spa.
With Tapatio Springs' roster of amenities blended to attract sophisticated travelers, Latitudes: Lifestyles by Crescent will focus on implementing its innovative management platform to develop elevated concepts for guests. The addition of this 'home-away-from-home' Hill Country resort adds to the growing portfolio and is aligned with the high value-add expectations and offerings for guests.
"Tapatio Springs Hill County Resort is a property emblematic of the lifestyle division," said Michael George, Chief Executive Officer and Founder of Crescent Hotels & Resorts. "Latitudes is focused on properties that appeal to the changing wants and needs of travelers - from forward-thinking wellness programs, activities for inner-growth, and chances to reconnect with nature - all suitable for spanning generations. We are ready to take this strong resort concept to the next level."
Only 20 minutes from San Antonio, Tapatio Springs Hill Country Resort is a gem in the Texas Hill Country. A recent renovation resulted in a brand new 35,000 square foot clubhouse, reflective of the resort's Hill Country roots. For dining, the property has three food and beverage options: La Cascada Table & Bar, featuring elevated Texas fare; La Tienda for coffee and grab-and-go items; Double L Bar & Grill at The Resort Pool.
111 guestrooms – including the two-bedroom George Strait Suite – are designed to evoke an authentic Hill Country escape. The property is a wellness oasis, with nature paths abound near the resort, as well as limestone caves and caverns. One of the best golf courses in Texas, Tapatio Springs Golf Course is ideal for players of all ages and abilities. Tapatio Springs also offers a variety of indoor and outdoor event venues with state-of-the-art audio and visual equipment. Skilled event planners and meeting specialists customize menus, plan teambuilding activities, and provide high-quality service.
Apt for multiple generations, Tapatio has created a variety of unique events to keep the entire family engaged and entertained, including the Singer-Songwriter Series featuring live music from well-known artists and Dive-in Movies at The Resort Pool. For travelers interested in exploring the region, nearby Hill Country Mile in downtown Boerne and the historic storefronts in Fredericksburg are perfect for shopping. There are also numerous wineries and craft breweries for gourmands to discover.
To book a room at the Tapatio Springs Hill Country Resort, visit the property's website here.
About Crescent Hotels & Resorts
Crescent Hotels & Resorts is an award winning, nationally recognized, operator of hotels and resorts with over 100 properties in the United States & Canada. Crescent is one of the few elite management companies approved to operate upper-upscale and luxury hotels under the brand families of Marriott, Hilton, IHG and Hyatt. Crescent also operates a collection of 30+ independent and lifestyle properties under the Latitudes Collection umbrella. These properties include PGA National Resort, Hall Arts Hotel, a Curio Collection and The Opus Westchester, Autograph Collection. Powered by innovative, forward-thinking experts, Latitudes is a modern management platform for lifestyle hotels and resorts where creative concepts connect with modern travelers from urban boutique hotels to oceanside resorts.
Crescent's clients include premiere REITs, private equity firms and major developers. For more information, please visit http://www.crescenthotels.com and http://www.latitudesbycrescent.com or connect with Crescent on LinkedIn.