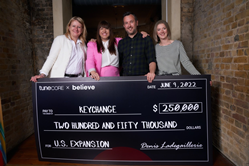 "Believe and TuneCore are committed to change across our artist and employee communities, and the music industry on a global level... We look forward to continuing to walk the walk together as we actively work to transform the industry."
LONDON (PRWEB) June 10, 2022
One of the world's leading digital music companies, Believe and its leading automated distribution division, TuneCore, will together commit $250,000 towards gender equity and justice initiative Keychange's expansion into the U.S.
Ahead of an official launch event in New York next week, Sandrine Bossard, Chief People Officer, Believe, Andreea Gleeson, CEO of TuneCore and Keychange U.S. Ambassador joined 75 European and Canadian participants at Keychange's annual meet-up in London to present the Keychange team with a cheque to expand the global movement.
Denis Ladegaillerie, Founder and CEO, Believe said, "Believe and TuneCore are committed to change across our artist and employee communities, and the music industry on a global level. With Keychange, we have an organization who shares our dedication to gender equality and provides the education and networking opportunities to effectively move the needle for women creators and executives. We look forward to continuing to walk the walk together as we actively work to transform the industry."
Keychange was founded in 2017 jointly by core partners Reeperbahn Festival (Germany), PRS Foundation (UK) and Musikcentrum Öst (Sweden). The initiative has been taking action to empower participants through training, mentoring, and network support in collaboration with partners from 12 different countries and with support from the Creative Europe Programme of the European Union. And Keychange is diversifying and reshaping the music industry to create a stronger and more sustainable community for all genders. Integral to this is a Gender Equality Pledge, which has over 580 music organisations and company signatories around the world. They began their journey with advocating for 50/50 representation on stages at festivals such as Reeperbahn. Since then, they have reshaped the industry by working globally with music organizations and companies to sign onto a Gender Equality Pledge to create a stronger and more inclusive community. Over 550 organizations and companies are signatories. Keychange also has established a participant program populated by artists and rising executives who benefit from a year long program of education and mentorship.
Merle Bremer, Project Lead Keychange (Reeperbahn Festival) said, "The global Keychange movement counts the discounted and brings women and gender minority artists and industry professionals to the mainstage. The incredible participants have inspired us this week in London, and we're excited about the stronger, more connected music industry we are creating for all genders. Thanks to the dedication and commitment of the Believe and TuneCore teams, we will soon be able to announce details of Keychange's expansion and we can't wait to build an effective and bespoke approach to moving the needle in the U.S."
Gender equality has long been an issue in the music industry. The Annenberg Inclusion Initiative's 2022 study on women in popular music found that representation of women in music has not improved in the last decade. In fact, while women currently represent half of the U.S. population, only 21.8% of all artists were women, 12.7% of songwriters were women and only 2.8% of producers were women. On the industry side, only 13.9% of top executives were women.
Andreea Gleeson, CEO, TuneCore commented, "From boardrooms to stages, the music industry has looked the same for a very long time. TuneCore made a commitment to promoting gender equality with our women's study, BE THE CHANGE, now in its second year. The results revealed the reasons holding women back from success in the industry, as well as perception and value gaps. Recognizing that all genders need to play a role in improving equality for women and gender minorities, we're thrilled to partner with Keychange, whose programming works as a complement to existing advocacy groups such as Women in Music, shesaid.so and She is the Music, uniting all organizations towards one common goal."
Sponsored by Believe and TuneCore, BE THE CHANGE: Women in Music provides a closer look at the reasons holding women back in the music industry. Chief among the findings were the issues of harassment and bias, causing women to make choices based on avoiding conflict, with as many as one in five dropping out of the industry altogether. The study also advocated for women to be given opportunities and the same resources as men in gender friendly environments. The implementation of these learnings led TuneCore to partner with Keychange to launch the Gender Equality Hub at Reeperbahn Festival, providing curated educational workshops to women and gender minorities, and also saw TuneCore offer a women's music production workshop for artists last fall.
As a result of their dedication, Believe and TuneCore have both moved towards true gender equality. On the artist side, TuneCore started 2021 with 28% women artists and after putting learnings from BE THE CHANGE into practice, rose to 42% women artists by the end of the year. On the employee side, Believe earned a near perfect 99/100 score on France's Gender Equality Index, which measures companies' parity in salaries, equality in raises and maternity leave policies.
Next week on Tuesday, June 14, the official launch of Keychange U.S. will be celebrated at a VIP event at the Swedish Residence in New York where the organization and Gleeson will play host to an array of key U.S. music industry artists and executives as well as NYC officials. Additionally, as part of Indie Week's official programming, Keychange will sponsor the panel, "How to be a Barrier-Breaker: An Inclusion & Allyship Workshop," as well as two masterclasses, "YouTube: What You Need to Know NOW" and "Twitch Music: Where Fans Become Superfans." RSVP for the workshops here.
About Believe
Believe is one of the world's leading digital music companies. Believe's mission is to develop independent artists and labels in the digital world by providing them the solutions they need to grow their audience at each stage of their career and development. Believe's passionate team of digital music experts around the world leverages the Group's global technology platform to advise artists and labels, distribute and promote their music. Its 1,430 employees in more than 50 countries aim to support independent artists and labels with a unique digital expertise, respect, fairness and transparency. Believe offers its various solutions through a portfolio of brands including TuneCore, Nuclear Blast, Naïve. Groove Attack and AllPoints. Believe is listed on compartment A of the regulated market of Euronext Paris (Ticker: BLV. ISIN: FR0014003FE9). http://www.believe.com
About TuneCore
TuneCore is the global platform for independent musicians to build audiences and careers – with technology and services across distribution, publishing administration and a range of promotional services. TuneCore Music Distribution services help artists, labels and managers sell their music through Spotify, Apple Music, Amazon Music, Deezer, TikTok, Tencent and more than 150 download and streaming stores worldwide, while retaining 100 percent of their sales revenue and rights for a low annual flat fee. TuneCore Music Publishing Administration assists songwriters by administering their compositions through licensing, registration, worldwide royalty collections, and placement opportunities in film, TV, commercials, video games and more. The TuneCore Artist Services portal offers a suite of tools and services that enable artists to promote their craft, connect with fans, and get their music heard. TuneCore, part of Believe, is headquartered in Brooklyn, NY, with offices in Los Angeles, Nashville, Atlanta, and Austin, and operates globally through local teams based in the UK, Germany, France, Belgium, Italy, Brazil, Mexico, Nigeria, South Africa, India, Japan and Singapore across 5 continents. http://www.tunecore.com
About Keychange
Keychange is a pioneering international initiative which is transforming the future of music. By encouraging festivals and music organisations to pledge to have at least 50% women and gender minority representation in their programming, staffing and beyond, Keychange is creating a more gender representative, and more inclusive music industry for present and future generations.
Alongside the Keychange Pledge, the Keychange Talent Development Programme unites 75 emerging artists and innovators from Europe and Canada each year, to take part in international festivals, showcase events, collaborations and a programme of creative labs,
Keychange is led by Reeperbahn Festival, PRS Foundation and Musikcentrum Öst, supported by the Creative Europe programme of the European Union, in partnership with Tallinn Music Week, Iceland Airwaves, BIME, Oslo World, Linecheck/Music Innovation Hub, Ireland Music Week, Different Sounds, SACEM, Sound City, Way Out West, MaMA Festival, MUTEK and Breakout West.
Keychange is sponsored by FACTOR, Fundación SGAE, GEMA, Gorwelion Horizons, IMRO, Italia Music Lab, the Musicians' Union, Norsk Tipping, Roskilde Festival, SOCAN Foundation, Songtrust, SoundCloud, STEF, STIM, the Swedish Government, Talent Norge and Ted Baker. http://www.keychange.eu