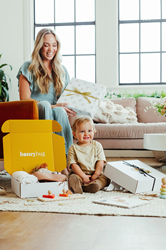 "HoneyBug was created as a solution to every busy mom and gift giver's gifting problems." - Founder and CEO, Jennifer Kennedy
SAN DIEGO (PRWEB) June 16, 2022
HoneyBug has disrupted the more than $500 billion children's product and gifting market by reinventing how family and friends shop for kids. HoneyBug has reimagined the gifting process for efficiency, accessibility, and extraordinary convenience without sacrificing quality, thoughtfulness, presentation, or the joy of giving.
HoneyBug has removed the stress and most common struggles from gifting, simplifying the experience into a seamless process. No more visiting multiple stores to assemble a last-minute gift, no more stressing out about what to buy a baby or toddler, and no more stressing about sending a thoughtless "big box" gift without wrapping or personalization, hastily delivered to the gift recipient's door.
From pregnancy to kindergarten, HoneyBug believes in celebrating every milestone in the growth of a child ("little bug") and making it easier for family and friends to celebrate with them. Whether getting ready for a baby shower, first birthday or celebration, HoneyBug's unique gifts will always put a smile on any little bug's face.
HoneyBug offers many ways to celebrate:
1. Curated new baby and toddler gift boxes: Curated by experts, these boxes feature a vast selection of high-quality baby clothes, toys, accessories, and essentials from the bestselling baby brands around the globe.
2. HoneyBug's proprietary "Build-a-Box" feature: This proprietary technology helps create custom gifts for baby, toddler, and children in minutes, selecting from high-quality clothes, toys, accessories and essentials, allowing for thousands of unique combinations.
3. Make any item a gift with just one click: Any item purchased from HoneyBug can be wrapped in artisan papers, topped with HoneyBug's signature star wand and whimsical hand tied bow for just $4.99.
No gift giver should have to sacrifice quality for speed. Every HoneyBug order has a "Fast & Free Shipping Guarantee," same-day order fulfillment, and extended return windows on all gifts, making the shopping experience easier than ever.
Founder and former retail marketing executive Jennifer Kennedy realized there had to be a better way to take the hassle out of gift giving and make it fun again. Kennedy said, "As a busy executive and a mom of two little ones, I always felt I was running around last-minute trying to find thoughtful gifts for the dozens of baby showers and children's parties I was attending. HoneyBug was created as a solution to every busy mom and gift giver's gifting problems."
Since its humble beginnings in Kennedy's garage in 2019, HoneyBug has delighted over 32,000 little bugs through over $3 million in sales. Though the brand continues to rapidly grow, one thing will always remain the same for Kennedy, who said, "We made an unwavering commitment to leaving our world a little better for the kiddos we have the honor of celebrating. We are deeply focused on ethical sourcing, sustainable and organic production and progressing female-owned and independent businesses forward."
About HoneyBug
HoneyBug is a children's essentials and gifting retailer, founded by Jennifer Kennedy in San Diego, CA.
Whether you are buying for your child, or gifting to someone else's, HoneyBug is reinventing how you shop for kids. HoneyBug celebrates the joy of getting and gifting baby essentials through extraordinary convenience, comprehensive selection and a personalized buying experience that helps you make the right choices every step of the way. With thousands of the hottest baby and kids' items around, moms can find new gems, stock up on old favorites and explore the magical world of motherhood, one milestone at a time.
HoneyBug is known for celebrating all of life's little (and big) moments. From every holiday to celebrating moments like being "Promoted to Big Sibling" or a "First Birthday." Whether you are getting ready for a baby shower, birthday, holiday, or other celebration, HoneyBug's unique children's gifts will always put a smile on your loved one's face, because HoneyBug believes it "Takes More Than a Village, It Takes a Hive."
Buy all your children's essentials and gifts at http://www.shophoneybug.com
Media Contact: rachel@shophoneybug.com