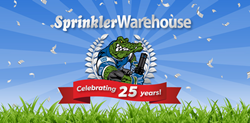 HOUSTON (PRWEB) June 15, 2022
This year marks the 25th anniversary for Sprinkler Warehouse, a Houston-based online irrigation company that empowers contractors and homeowners through professional-grade products and DIY tutorials.
The Sultan of Sprinklers
Like many startup ventures, Sprinkler Warehouse's journey began in company President Steven Okelberry's garage where he packed, addressed, and stored sprinkler parts. Since UPS didn't make house stops back then, he habitually followed a delivery truck asking them to deliver packages to his customers.
Sprinkler supplies soon overflowed his garage before spilling over into his living room and eventually his child's bedroom. As a solution, he rented 900 square feet of warehouse space to nurture his newest child–Sprinkler Warehouse. A year later, he rented the space next to the existing location and knocked down the connecting wall, paving the path for a larger venture. Two-and-a-half decades later, Sprinkler Warehouse boasts a multi-million dollar net worth and a legacy as America's Most Shopped Sprinkler Store.
A Silver Celebration
From the warehouse to customer service to marketing, Sprinkler Warehouse currently has 69 employees and remains an online irrigation juggernaut with a fulfillment center in Orlando and an interactive showroom in Houston. To commemorate this silver milestone, Sprinkler Warehouse is offering specials throughout the year for the customers who have cemented its reputability.
"The customers have always been a priority. Sure, profit's great, but it is really loyalty - both from customers and employees - that harnesses a company's success. A good business model can only carry a company so far, so I've been really lucky. And a lot of that is keeping customer experience at the forefront."
-Steven Okelberry, President
A Texas Licensed Irrigation Professional and a National Certified Irrigation Contractor, Irrigation Designer, and Landscape Irrigation Auditor, Steve has corralled a team committed to bringing quality products, along with an immersive educational experience to the customers who made Sprinkler Warehouse what it is today. Sprinkler Warehouse aims to enhance value for matters outside the home, allowing people more time to value what matters inside the home.