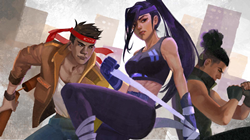 "Through Uppercut Training Club, we're decentralizing and democratizing Hollywood by tapping into the power of web3 to create community-driven narratives and allow creators and fans to collaborate in the adrenaline-pumping stories they want to see." - Kartik Hosanagar, CEO of Jumpcut
LOS ANGELES (PRWEB) July 12, 2022
Jumpcut, a tech-first entertainment company that collaboratively creates narrative IP with communities, announced the official mint date for the NFT Genesis collection of Uppercut Training Club, interactive storytelling and martial arts gaming experience designed by top Hollywood creatives, including Kevin Tancharoen (Book of Boba Fett, Mortal Kombat: Legacy) and Stephanie K. Smith (Carnival Row). Starting on August 30, UTC members will mint their 3D fighter to become a hero inside a collaborative story universe to train with real martial artists including Gemma Nguyen (Everything Everywhere All At Once,) Travis Wong (Bullet Train) and Gui DaSilva-Greene (Avengers: Endgame.) Through the power of community-driven storytelling, Uppercut Training Club members will both craft and take part in the ownership of the next action hero franchise, suitable for films, graphic novels, podcasts, video games and more.
"The conventional approach to storytelling leaves us fans as mere consumers of stories — the last to see the content and with no participation in the creative process," expressed Kartik Hosanagar, CEO of Jumpcut and professor at The Wharton School. "Through Uppercut Training Club, we're decentralizing and democratizing Hollywood by tapping into the power of web3 to create community-driven narratives and allow creators and fans to collaborate in the adrenaline-pumping stories they want to see."
Uppercut Training Club is set to unleash an inclusive action metaverse of generative heroes on the blockchain with diverse faces, shapes, genders, and colors that reflect today's world, rather than the narrowly defined Johns (Wick, McClane, Connor, Rambo) and Jacks (Reacher, Ryan, Sparrow, Bauer) of recent cinema. Uppercut NFT holders will receive a unique 3D PFP of their action hero ready to be utilized across the metaverse and powered by native artwork from Unreal Engine in partnership with creative direction studio, HaZimation. Over a 10-week season, heroes will be trained by senseis, given new quests and separated into three Domos led by real Hollywood stunt performers. As the story progresses, scripted live-action videos featuring dynamic fight scenes will deliver a jolt of adrenaline and tasks for the week from some of Hollywood's greatest action performers recognizable from several global blockbuster hits.
Jumpcut is expected to release NFT collection size details and additional strategic partnerships in the coming weeks on Twitter @uppercutNFT and its Discord channel, accessible exclusively through the official UTC website, UppercutTrainingClub.com.
ABOUT JUMPCUT
Founded in 2019, Jumpcut is a Web3 entertainment company that collaboratively creates narrative IP with communities. We connect writers and creators with audiences to build premium storytelling brands in which our community has creative and financial co-ownership. Our collaborators include global streamers such as Disney, and leading producers such as Amblin, SB Projects, Oscar-winning producer Lawrence Bender, and others.
# # #
For additional assets, media inquiries, and interview consideration, please contact:
Crystal Willis
Head of Media & Talent, LOOP Studios
Crystal@LoopStudios.com
For all brand partnership inquiries, please contact:
Antoinette Williams
CEO, LOOP Studios
Antoinette@LoopStudios.com
Alisa Jacobs
Founder, LOOP Studios
Alisa@LoopStudios.com