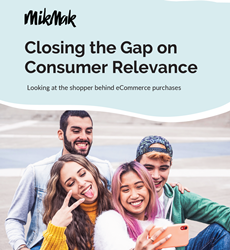 "MikMak's Shopper Intelligence data shows that Gen Z shoppers are currently one of the most valuable audiences for brands online, with female and diverse audiences showing a higher purchase intent rate across all media types."
NEW YORK (PRWEB) July 07, 2022
MikMak, a leading eCommerce acceleration platform, today announced the release of the Closing the Gap on Consumer Relevance Guide. Designed to provide brands with critical insights into the current purchasing preferences of consumers in 2022, the guide shows that across all media types, the future of eCommerce is increasingly diverse and female.
Available starting today, the Closing the Gap on Consumer Relevance Guide uses purchase intent rate data gathered from the MikMak Platform to identify current online shopping behaviors and trends based on demographics, generational and life-stage data.
"MikMak's Shopper Intelligence data shows that Gen Z shoppers are currently one of the most valuable audiences for brands online, with female and diverse audiences showing a higher purchase intent rate across all media types," said Rachel Tipograph, founder and CEO of MikMak. "Understanding the shopping preferences, interests and behaviors of this new generation of shoppers is critical for brands looking to succeed in 2022."
Key findings from the report:
Gen Z female shoppers and diverse audiences show high eCommerce purchase intent

Data from MikMak shows the purchase intent rate in Q1 2022 across categories and generations was 5.4%
Gen Z shoppers, with a purchase intent rate of 7.0%, are 1.3 times higher than all other age groups. This trend is expected to continue as more younger consumers gain higher levels of discretionary income
TikTok eCommerce is predominantly driven by female shoppers, at 3.4 times more page views, five times more purchase intent clicks and a 1.5 times higher purchase intent rate than male shoppers
Hispanic-identifying Gen Z shoppers have a purchase intent rate of 7.3%, 1.35 times the current average; and African American-identifying Gen Z shoppers have a purchase intent rate of 7.6%, 1.4 times the current average
Female shoppers show a higher purchase intent in alcohol and personal care
In Q1 2022, the purchase intent rate of female alcohol shoppers overtook male shoppers reaching 1.3 times the category average
Female shoppers have a higher purchase intent rate for beauty and are equally likely to shop online when it comes to personal care and grocery
Childless households are more likely to shop online
Households without children have the highest likelihood of doing their shopping online across all categories
As the number of children in the household increases, online purchase intent rates decrease
Methodologies:
Findings are based on data gathered from Q1 2021 to Q1 2022 on The MikMak Shopping Index, a collection of key eCommerce KPIs collected across hundreds of brands and over 250 channels and over 2000 retailer integrations on the MikMak Platform to understand consumer online shopping behavior. The Index also includes data from MikMak Shopper Intelligence, which ties first-party eCommerce data to 1,000+ demographic and psychographic data points, and can be segmented by product, retailer and more. Shopper Intelligence is available through an industry-exclusive partnership with LiveRamp.
To learn more about the MikMak Shopping Index, please visit http://www.mikmak.com.
About MikMak:
MikMak is the leading global platform for eCommerce acceleration for multichannel brands and provides analytics and eCommerce enablement software to help product manufacturers and CPG companies understand their consumers' online behavior, determine the best use of marketing dollars, and drive online sales.
The flagship product, MikMak Insights improves marketing effectiveness, drives market share over competitors, and strengthens a brand's positioning with retailers. The MikMak Commerce product enables brands to create shopping experiences connected to 1500+ online retailers and streamline the path-to-purchase from any media, ad, or website.
MikMak's investors include Wavecrest Growth Partners, VaynerMedia, Luminari Capital, SLOW Ventures, UTA Ventures, Brave Ventures, Lunch Partners, Madrona Pioneer Fund, Bazaarvoice founder Brett Hurt, Hooklogic founder/CEO Jonathan Opdyke and founding CRO John Roswech, Foursquare CEO David Shim, and Kargo CEO Harry Kargman.