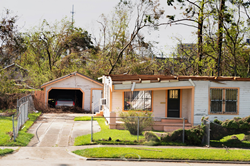 We must be prepared for any destruction that may come from storms. EarthKind®'s naturally smarter® approaches are the right solution to protect homes from displaced pests.
MOORESVILLE, N.C. (PRWEB) July 14, 2022
EarthKind®, makers of naturally smarter® plant-based pest prevention products, provides guidelines on preparing homes against displaced critters during this hurricane season. Along with the expensive damage and devastation that hurricanes leave behind, the wreckage caused by these natural disasters displaces a host of animals and pests. In need of food and shelter, rodents, ants, cockroaches, spiders, and mosquitoes attempt to seek refuge in homes with structural damage and moisture, as well as backyards with standing water.
This year, the National Oceanic and Atmospheric Administration predicts another storm uptick. Meteorologist Ashley Smith indicated that "we can expect above-average activity (14-21 named storms) in the Atlantic Ocean this year. Above-average sea temperatures combined with La Niña will feed storm development this season. There could be as many as 6-10 hurricanes and a handful of major hurricanes," Smith concluded.
With storms becoming more intense, according to a recent research study published in Nature Climate Change, it is even more important to be aware of the measures that can help prevent displaced creatures from finding shelter in your home.
Unfortunately, even after storms have passed, pests remain lurking. One such pest, the mosquito, uses this time to lay its eggs in floodwater puddles, creating a new species called the floodwater mosquito, also known as the "nuisance mosquito." These mosquitoes carry mass disease and bite more frequently and with more intensity. Besides mosquitoes, land-ridden creatures such as rodents, ants, and spiders are all in search of higher ground. From rodents' excellent swimming skills to ants' clever raft-formation, these pests can survive in deep water while they look for a suitable shelter—like your home.
In order to prevent these invasions, it is imperative to build an effective pest prevention plan before hurricane season ramps up. Pest prevention expert Kari Warberg Block, CEO/Founder of EarthKind® suggests ridding damaged homes of any excess moisture as soon as possible and then safeguarding it with EPA-registered bug repellents.
EarthKind®'s, plant-based, EPA Registered deterrents for Rodents and Mosquitoes may be the necessary addition to any hurricane readiness arsenal. With scientifically proven botanical formulas, these deterrents help reduce any homeowners' exposure to pests that carry bacteria, parasites, and human pathogens that can cause serious health risks. It is 100% satisfaction guaranteed and is also safe for use around children and household pets.
EarthKind® Stay Away® products, which include solutions for ants, cockroaches, moths, rodents, mosquitoes, are available at retailers nationwide, such as Lowe's, Target, Grove Collaborative, Tractor Supply, and ACE Hardware, and can be purchased online at EarthKind® Amazon Store.
As the hurricane season progresses, we must be prepared for any destruction that may come from the storms. EarthKind®'s naturally smarter® approaches are the right solution to protect homes from displaced pests. Like humans, these creatures have also lost their homes to a natural disaster. Instead of resorting to a kill-on-contact treatment, EarthKind®'s deterrents are the earth-friendly way to deal with these unwanted visitors.
Media interested in knowing more about EarthKind® please contact Janelle Dunbar at janelle@adinnyc.com or 516-242-7677.
About EarthKind®:
EarthKind® is the leading pest prevention brand with a mission to reduce toxic pesticide use in homes and businesses by offing a Naturally Smarter® way to keep pests out without having to kill or poison them. EarthKind's® 100% guaranteed, top-rated, solutions are produced using ingredients primarily grown on US farms, made by handicapable citizens who care, and formulated to protect your stored valuables without harm to natures delicate ecosystems, or your family's health. EarthKind® is a is a woman owned, Carbon Neutral company.
FB: @EarthKindLiving https://www.facebook.com/earthkindliving
IG: @EarthKind.Living https://www.instagram.com/earthkind.living/
Twitter: @EarthKindLiving https://twitter.com/EarthKindLiving
Pinterest: @EarthKindLiving https://www.pinterest.com/EarthKindLiving/
YouTube: https://www.youtube.com/c/EarthKindLiving