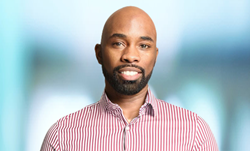 "This is not only about sharing digital artwork but also showcasing how NFTs can serve society in ways we haven't even imagined yet."Isaac Barnes, President of Eminent Future
OAKLAND, Calif. (PRWEB) July 20, 2022
History-Maker and President of Eminent Future, Isaac Barnes and his business partner Jose Risi, to launch the "Hero Series," a first-of-its-kind NFT Mural collection to honor Ronald V. Dellums the late congressman and former mayor who died July 30, 2018, at age 82, Nelson Mandela, and many others who stood for peace and justice in the US and abroad. The launch is set to feature a breathtaking mural of NFTs created by commissioned digital artists, which will be unveiled on September 9, for Ronald V. Dellums International Day of Peace.
Ronald Vernie Dellums was an American politician who served as Mayor of Oakland from 2007 to 2011. He had previously served thirteen terms as a Member of the U.S. House of Representatives from California's 9th congressional district. Congressman Dellums began a campaign to end the apartheid policies of South Africa in 1972. Fourteen years later, his bill, the Comprehensive Anti-Apartheid Act of 1986, was passed by The House of Representatives with strong bipartisan support. President Reagan vetoed the bill. However, Congressman Dellums was a master statesman, and he was able to get President Reagan's veto overridden. It was the first override in the 20th century of a presidential foreign policy veto.
The Hero Series is being released in partnership with The Dellums and Davis Legacy Foundation and Truth & Reconciliation Conversations (TRC). "Our team is so excited to be able to use this project as a way of showing others what's possible when they put their minds together and work towards change," said Isaac Barnes, History-Maker and President of Eminent Future. "This is not only about sharing digital artwork but also showcasing how NFTs can serve society in ways we haven't even imagined yet."
We are calling all creative digital artists to help us turn this monumental project into a game-changing one of a kind celebration of life for those that fought for us. More information about the project will be available soon.
About Eminent Future
Eminent Future is a digital product and innovation company focused on Environmental, Social, and Governance (ESG) impact. We focus on helping governments use technology to create societal change. Our work is about shifting culture, shifting society, and changing narratives.
About The Dellums and Davis Legacy Foundation
The Dellums and Davis Legacy Foundation is a charitable organization established to carry on the legacies of Ronald V. Dellums and Howard C. Davis. The Foundation provides global services and charitable support for women's rights, environmental justice, LGBTQ+ rights, and gender equality through education.
About Truth & Reconciliation Conversations (TRC)
TRC is a nonprofit organization committed to promoting racial reconciliation and gender equality. It has organized annual observances of Nelson Mandela International Day and 16 Days of Activism against Gender Based Violence in the US, South Africa, and around the world.
Media Contact

Cedric Hill
Phone: +1.470.526.8303
Email: info@HaughtonSolution.com