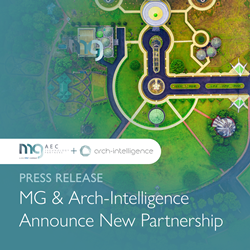 "Throughout the history of Revit, landscape architects and urban planners have been unable to successfully transition from CAD to BIM workflows. The Environment tool finally allows the integration of landscaping and urban designers to work effectively within a BIM environment."
DENVER (PRWEB) August 03, 2022
MG is now the premier North American Arch-Intelligence partner, providing support and software connecting site design within Autodesk Revit and landscaping. Partnering with Arch-Intelligence combines MG's AECO industry and Autodesk Revit expertise with Arch-Intelligence's cutting-edge landscaping technology, Environment. This technology was developed by practicing landscape architects and has evolved beyond plant placement into accurate grading plans, retaining wall designs, and real-world collaboration.
"Throughout the history of Revit, landscape architects and urban planners have been unable to successfully transition from CAD to BIM workflows. The Environment tool finally allows the integration of landscaping and urban designers to work effectively within a BIM environment." – Brian D. Juge, AIA RA, Senior Digital Practice Technician Building/Construction at MG
"As landscape architects and site design professionals, we are closely familiar, on the one hand, with the dire need for our discipline to transfer to BIM, and on the other hand, with the gaps in current BIM platforms that make such a transition difficult, if not impossible. Coupling our outdoor design expertise with extensive Revit experience, we developed Environment for Revit® and have finally leveled the playing field for our fellow professionals, allowing them to design landscapes and plan sites with the same, if not greater ease and efficiency as the rest of the AEC world." - Ilya Volokin, CEO of Arch-Intelligence
Outdoor spaces are becoming more vital to reconnecting with nature after two years of pandemic measures. Landscaping design trends are becoming more organic and environmentally sustainable. Arch-Intelligence's Environment plugin for Autodesk Revit is changing the way architects design and view outdoor spaces, offering the ability to design topographies and hardscapes, use architectural walls in site design, and analyze topography within Autodesk Revit and collaborate with CAD files in site design.
The partnership between MG and Arch-Intelligence will allow landscape architects to collaborate like never before using Environment in Autodesk Revit. MG is building customized templates, onboard training support, and supplemental content to ensure a successful transition to Autodesk Revit. MG will begin offering a free trial of Environment starting August 2022 with unparalleled support from tech experts in the field. Contact us at marketing@teamd3.com to learn more.
About MG: MG AEC Technology Partners is a premier provider of AECO technologies and services. MG combines broad expertise in AECO industry professional best practices and the technology solutions that help their clients create world-class projects.
MG believes that a well-informed environment leads to the development of intelligent, sustainable, and effective projects for tomorrow's world.
About Arch-Intelligence: Arch-Intelligence develops and offers Environment for Revit®, the world's leading platform for BIM-based landscape and site design.
In a world where "conventional" architectural projects are conducted almost exclusively in BIM environments, and in which Revit® is the most advanced and most popular BIM software in the AEC industry, Arch-Intelligence has made it its mission to transform Revit® into the software of choice for landscape architects and outdoor design professionals.
The company has made good on this promise through It's Revit® plugin, Environment for Revit®, that includes a rich toolset offering more efficient and effective landscape workflows and streamlining and simplifying dozens, if not hundreds of tedious, repetitive, and time-consuming tasks in Revit.
With its face to the future, Arch-intelligence continues to develop ways to improve, optimize, and expand BIM-based design and construction processes, extending Environment to serve the needs of professionals of additional AEC disciplines, as well.