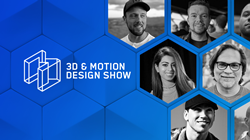 Taking place all day from Tuesday, August 9th to Thursday, August 11th, this supersized show is packed with presentations from 13 incredible speakers
Friedrichsdorf, Germany (PRWEB) August 04, 2022
Maxon, the developers of professional 3D modeling, animation, rendering and motion design software solutions, have announced the speaker lineup and schedule for its upcoming 3D and Motion Design Show for SIGGRAPH 2022. Taking place all day from Tuesday, August 9th to Thursday, August 11th, this supersized show is packed with presentations from 13 incredible speakers, with specialized experience across a variety of industries including feature films, automotive, sports graphics, and video games. The presenters will be showcasing how users can improve their workflows across a range of motion design, animation, and visual effects using the Maxon suite of tools. With demonstrations of new features in Cinema 4D S26, videos featuring Red Giant effects, Sci-Fi Loops and Robots, and more, there truly is something for everyone at this month's show.
Broadcast live from Maxon's SIGGRAPH booth (445) from 10am PDT each day, presentations will also be available on-demand shortly after on 3DMotionShow.com as well as the Maxon YouTube channel. Viewers are encouraged to participate in the artist-led conversations by sending in questions via chat for live Q&A.
Sign Up for the 3D and Motion Design Show Reminders Now
Including presentations from:

Head over to 3DMotionShow.com to see the three day presentation schedule in full.
Maxon Webinars In addition to the 3D and Motion Design Show, Maxon hosts a number of online webinars - such as the wildly popular VFX and Chill, Demystifying Post-Production, and Ask The Trainer - every week for users who want more frequent access to industry-leading tips and tricks for getting the most out of their creative tools. See more information on upcoming topics for each week and register for updates here: https://www.maxon.net/events.
About Maxon
Maxon makes powerful, yet approachable software solutions for content creators working in 2D and 3D design, motion graphics, visual effects and visualization. Maxon's innovative product portfolio helps artists supercharge their creative workflows. Our product lines include the award-winning Cinema 4D suite of 3D modeling, simulation and animation technology; the creativity-on-the-go Forger mobile sculpting app; the diverse Red Giant lineup of revolutionary editing, motion design and filmmaking tools; the leading-edge, blazingly fast Redshift renderer; and ZBrush, the industry-standard digital sculpting and painting solution.
Maxon's team is comprised of fun, passionate people who believe in building and empowering a successful artistic community. From our popular, inclusive events to our free Cineversity educational resources, Maxon recognizes that developing strong connections with creatives and fostering their professional growth is integral to our ability to stay on top of industry trends and better serve customers.
Maxon is part of the Nemetschek Group.