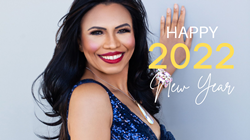 Start every year with Olympia LePoint's science-based, daily planning system and picture calendar designed for creating your best future yet.
LOS ANGELES (PRWEB) January 10, 2022
Designed by rocket scientist and author Olympia LePoint, the Quantum Deciding Planner is a new, science-based daily planning system that helps leaders create the future they want. The 12-month planner can be started in any month, and the system inspires executives to create their best calendar year. This science-backed system reveals 6 key decisions that empower you to reprogram your brain to invest into your core values and priorities. In doing so, you create the foundation for innovative results. Starting in January 2022, the Quantum Deciding Planner is updated and released yearly.
Olympia LePoint gives TED-like virtual talks on how to use this new Quantum Deciding Planner system which has "6 decision blocks."
1. LP = LIFE PURPOSE (Values)
2. ID = IDENTITY (Branding)
3. IT = INTENT (Prioritizing)
4. LN = LEARNING (Gathering Data)
5. RS = RESOURCES (Building)
6. LVT = LOVE IN TIME (Task Success)
Leaders create their future success with Olympia LePoint's decision-making science called "Quantum Deciding" explained in her third book, Answers Unleashed II: The Science of Attracting What You Want. The Quantum Deciding Planner takes this knowledge and activates success with a 3-step planning system. For each month, the planner contains future-thinking prompts, beautiful calendar pictures of Olympia LePoint accompanied with journaling exercises for leaders to reach their goals. Professionals use this system for personal success. Organizations use this system for company-wide leadership and innovation. The Quantum Deciding Planner is based on Olympia LePoint's latest book and science discovery. Olympia LePoint and her book are featured on NBC News, CBS News, ABC News, CW News, FOX News, Cheddar News, NBC Peacock, in Newsweek, USA Today, Amazon Prime, and The Doctor's TV talk show.
Download the Quantum Deciding Planner starting January 11, 2022 on AnswersUnleashed.com/QuantumDecidingPlanner. View more information on AnswersUnleashed.com/ScienceNews
-----------------
ABOUT OLYMPIA LEPOINT
-----------------
Hailed the "New Einstein" by her fans, and named the "Modern Day Hidden Figure" by People Magazine, Olympia LePoint is an award-winning rocket scientist, author and TED speaker seen by over 26 Million viewers. She gives the TED talk "Reprogramming Your Brain to Overcome Fear" which has gained more than 1 Million views. Her Impact Theory episode and related clips has more than 2 Million views. LePoint helped launch 28 NASA Space Shuttle missions into space. Today, LePoint's Mission Control Room desk is a science exhibit at the California Science Center in Los Angeles. In her youth, she overcame severe poverty, and failing math scores by reprogramming her brain, which led her to graduate Top 5 from a 6,500 graduating class with advanced degrees in Mathematics from California State University Northridge.
In 2021, she was featured on numerous TV news programs and in Newsweek, Atlanta Black Star, and USA Today news. As a guest space flight expert, LePoint appears on numerous CBS News and Cheddar News segments describing the science in Jeff Bezos' Blue Origin, Richard Branson's Virgin Galactic and Elon Musk's SpaceX commercial space flights. On NBC Peacock, LePoint is recognized as a leader like the late, award-winning NASA mathematician Katherine Johnson. Olympia LePoint and her books have appeared on NBC News, CBS News, ABC News, PBS, CW News, FOX News, Cheddar News, Amazon Prime Video, NBC Peacock, The Doctors TV talk show and Impact Theory. She explains science and the contents from her books Mathaphobia: How You Can Overcome Your Math Fears and Become a Rocket Scientist; Answers Unleashed: The Science of Unleashing Your Brain's Power; and Answers Unleashed II: The Science of Attracting What You Want. Read more about her amazing story on OlympiaLePoint.com.