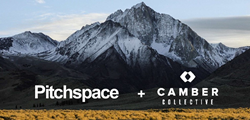 This partnership brings together and builds upon our mutual experience and lessons-learned working at the intersection of the startup and enterprise healthcare ecosystems over the past 20 years
SAN FRANCISCO (PRWEB) January 18, 2022
Camber Collective™ ("Camber") today announced a partnership with Pitchspace™, a new model focused on improving the effectiveness of partnerships between early-stage startups and established organizations in the healthcare, technology, and social sectors.
Through the Pitchspace model, established organizations and high potential startups will be brought together through a streamlined intake, evaluation and implementation process to align mutual growth objectives. Through the process, larger organizations will be able to unlock new growth opportunities in a scalable, repeatable, and de-risked way, tapping into the growth potential of high potential early-stage companies. At the same time, startups partnering with Pitchspace will gain access to transformative collaborations with large organizations, as well as tools and ongoing implementation support to successfully execute and scale pilot and enterprise-wide collaborations.
"We are in a moment where digital transformation in US healthcare is radically accelerating and digital health company valuations are skyrocketing, yet common points of friction and failure to implementing and scaling up partnerships continue to limit the impact these innovations have on the lives of patients. This partnership brings together and builds upon our mutual experience and lessons-learned working at the intersection of the startup and enterprise healthcare ecosystems over the past 20 years, crafting a unique but practical model that we are confident will deliver unparalleled value and results" said Matt Holman, Partner at Camber.
Mr. Edell is a leader in enterprise-startup partnerships, having successfully scaled emerging companies as an entrepreneur, investor, and strategy consulting partner. Chris was previously a Managing Director at CCI, which runs roundtable meetings for CEOs, Board Chairs and C-Suite teams. Chris was previously CEO and co-founder of Elevar, a consultancy that pioneered the 'Reverse Pitch', giving large companies the opportunity to pose business challenges to startups and partner with winners via paid pilots. Clients included many large US healthcare payers, providers, and technology companies.
"Entrepreneurs thrive on discovering new opportunities and turning them into successful business models. Large enterprises thrive at taking a proven model and scaling it into a defensible industry moat. Each party has a unique capability to augment the other to achieve their mutual growth objectives," said Mr. Edell. "With the right resources, experience, relationships, and implementation support, Pitchspace's partnership with Camber Collective will give enterprise clients and startups the tools, and best practices to bridge their unique capabilities together."