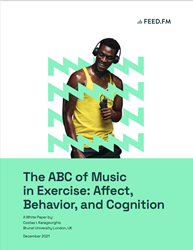 "As the global community strives to recover from the pandemic and re-establish positive physical activity habits, it is clear that the exercise–digital music nexus holds considerable value," Professor Karageorghis says.
SAN FRANCISCO (PRWEB) January 19, 2022
In a Feed.fm white paper released today titled "The ABC of Music in Exercise: Affect, Behavior, and Cognition," scientific data are presented affirming that music has the ability to lift mood, rewire brains, and improve fitness outcomes. As many people strive to achieve their exercise and fitness goals in 2022, this powerful evidence supporting that music plays a major role in helping us to succeed in reaching these goals couldn't come at a better time.
In the white paper commissioned by Feed.fm and authored by Professor Costas I. Karageorghis PhD, CPsychol, CSci, FBASES, AFBPsS, a leading Sport and Exercise Psychology professor at Brunel University London - compelling evidence indicates how the use of the right music at the right time activates an exerciser before a session, distracts them from fatigue, serves a metronomic-type function during exercise, and then returns the exerciser to a calm and revitalized state after their workout.
"As the global community strives to recover from the pandemic and re-establish positive physical activity habits, it is clear that the exercise–digital music nexus holds considerable value," Professor Karageorghis says.
Professor Karageorghis frames his findings around three main categories that he refers to as the "golden thread" of evidence:
(1.) Affect (underlying emotion) - As an "aesthetic stimulus" that promotes pleasure, touches the emotional centers of the brain, and ultimately leads to a more enjoyable workout.
(2.) Behavior (exercise performance) - The use of synchronous music can reduce the metabolic cost of exercise and has been found to have an "ergogenic" or work-enhancing effect. Among people who are recreationally active, the ergogenic effect can be as great as 15%. In this regard, Professor Karageorghis makes the bold claim that music might even be considered a "legal, performance-enhancing drug."
(3.) Cognition (thought processes) - Pre-task music has been found to elicit exercise-related cognitions or thought processes that feed into mental preparation. For example, these cognitions might be exercise-related imagery or positive self-talk prompted by lyrical excerpts (e.g. "I feel good", "let's get physical", or "moving on up").
We've always known intuitively that music has great power, but Professor Karageorghis's work is leveraging the latest tools and techniques to dig deeper into the how and why. For example, the new white paper also addresses how context is the key to effectiveness when it comes to curating music for fitness applications.
"A primary consideration is that music selected to accompany exercise should be congruent with exercisers' personal preferences—incorporating age-related factors and socio-cultural background—and meet the demands of the intended exercise task," Professor Karageorghis says. "Appropriate music selections can result in enhanced affect that is accompanied by greater work output and a reduction in perceived exertion"
If you are using music as part of a brand's digital fitness experience, planning on it in the future, or simply not sure if music is important to your fitness business, this white paper will share relevant information regarding:

Key concepts and recent research around music in exercise.
How rhythm can prompt immediate physical reactions.
The effects of music used before, during and after a workout.
Synchronous and asynchronous uses of music in fitness (hint: the tempo "sweet spot" in the asynchronous application is 120–140 bpm).
How music alters an exerciser's emotional state, inducing an optimal level of activation and supporting metal preparation.
How music lowers perceived exertion, enhances performance, and increases exercise enjoyment.
"At Feed Media Group (FMG), we create workout soundtracks for millions of exercisers each month," said FMG President Lauren Pufpaf. "Our team of experienced curators leans heavily on the science of exercise psychology and leverages Professor Karageorghis' work frequently. He has truly pushed the envelope in both understanding how music influences us as humans and developing practical applications."
FMG has been using Professor Karageorghis's excellent research for years in their exercise curation strategies, and are excited to support the dissemination of findings. The white paper is available here: https://info.feed.fm/the-abc-of-music-in-exercise
About: Feed Media Group (FMG) is for businesses that need licensed popular music to create the most engaging customer experiences in their digital apps and physical spaces. Unlike navigating complex, time consuming negotiations with music labels and publishers, Feed Media Group's proprietary streaming-platform and SDKs deliver pre-cleared music—compiled by the industry's best curators— complete with user analytics, payments to rights holders, and legal indemnification for our customers. Feed.fm powers music for the world's leading brands including The Beachbody Company, American Eagle Outfitters, Mayo Clinic, Mirror, Nautilus and Tonal; and up-and-coming startups use Adaptr to create unique music-based experiences.