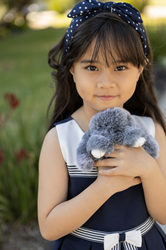 A story of miracles; while undergoing brain surgery Kyra's Mother had to make a choice and now we have 7-year-old Kyra Pesebre releasing her first official music video 'I Love You, Dad'. A song for all seasons celebrating Fatherhood.
LOS ANGELES (PRWEB) January 20, 2022
7-year-old Kyra has released her first official music video, "I LOVE YOU, DAD". It all started when Kyra's Dad (Ernie) was casually playing the piano one day, Kyra asked him what he was playing and he responded, "I am just playing a rhythm". She asked him if she can sing along and what should she sing. Ernie simply replied, "Sing anything you want, just sing it out loud." – Kyra started singing and now we have "I Love You, Dad". The song was released on Father's Day 2021 and became available on Spotify, Amazon Music, and iTunes.
Soon after, preparations were made to shoot the music video in Los Angeles with Videographer Airic Lewis, Owner of Nirvana Studios Hollywood. Kyra was ready to make magic happen and let the world visually experience "I Love You, Dad". She gives thanks to her supportive parents and family along with her vocal coach Ms. Monnette Forte and dance instructor Alex Collins.
Watch the official music video here- It's Kyra's Life – YouTube
But the excitement continues when Kyra received front-of-the-line audition passes for America's Got Talent 2022 virtual auditions this month. She is busy preparing for this amazing opportunity and ready to show the judges why she is the right candidate for the show. And hopefully, show America more of what she has to offer. More than showcasing Kyra's talent, it's a family story of miracles and faith. Kyra sadly lost 2 of her older siblings before she was born. Kyra's mother was diagnosed with Gliofibroma, a rare astrocytic tumor, composed of glial components ranging from benign to high-grade malignancy. Due to the massive brain tumor, Kyra's mother underwent a craniotomy where a team of doctors in emergency surgery, removed the portion of her brain with cyst and tumor. Years after the procedure, during her mother's pregnancy, they made her choose between her own life and the life of the unborn child. Kyra's mother chose her.
For more information about the auditions visit – (americasgottalentauditions.com)
ABOUT KYRA
Kyra was born in Hawaii. She's the youngest in the family with 2 big brothers, King Kristelshearn and King Rethelje. At the very young age of 4, she became Tiny Miss Ewa Beach. She competed for the Hawaii State Queen and emerged as the grand winner. She won the title of TINY MISS HAWAII PRINCESS / STATE QUEEN. She took home six (6) out of the nine (9) awards. To include Miss Photogenic, Miss Elegance, This is Me Award, Miss Personality, and Miss Community Spirit. She almost blew the Neil Blaisdell Center down when people, friends, and families gathered together and witnessed her memorable performance.
As the State Queen, she represented Hawaii in TALENT INC, Orlando Florida. Out of more than 520 aspiring models, actors, and singers, and while being the youngest, Kyra emerged number one (1) and took the much-sought title of OVERALL TOP CHILD MODEL for 2019-2020. She was able to gain all the support of the other contestants, their families and became the judge's top child model and talent.
Three months after her winning, she traveled to Anaheim, California. She represented Hawaii for the NATIONAL AMERICAN MISS Competition. With 108 STATE Princesses and Representatives all over the nation, it was a humbling experience to watch Kyra as one of the most awarded STATE Princesses who gathered several awards, recognition, and trophies to include 2019 National Pageant National Top Finalist, 2019-2020 National FINALS PRINCESS and People's Choice Award Winner.
During her reign as the State Queen, she continued to serve the community. While Kyra's schooling is her top priority, she became a part of the Hawaii Fashion Week, American Cancer Society, American Breast Cancer Society, and National Multiple Sclerosis of Hawaii. Since she was born, every year, Kyra and her family pledged to support Bahay Aruga in the Philippines to assist pediatric cancer patients. It has been their family advocacy and personal calling. Kyra is involved in the Hawaii community and performs on occasions such as church gatherings, school graduations, birthdays, anniversaries, and other special gatherings all over Hawaii. Kyra displays proficiency in singing, playing piano, doing Tahitian dances, interpretative dance with the hoverboard, hula, and ballet. Also, modeling, acting, and painting are some of her passions. She produced her own vlogs, inspiring videos, and performances to help children feel that they are not alone.
Kyra became a household name and continues to feel the love and support of the people from Hawaii. November 2021, Kyra made history for being the very first child awardee of the "Gawad Amerika Award" as the World's Inspiring Youth Leader/Child Prodigy. Furthermore, during the Young Leaders Global Summit, she was awarded as one of the "Top 50 World Most Influential Young Leaders" who have been carefully selected from a pool of over 200 young inspiring leaders around the world. Her amazing accomplishments since the age of three inspired extraordinary world-inspiring leaders and received great feedbacks across the globe. She stood out for standing as a great example of courage, love, hope, and integrity. As a 7-year-old, her tremendous contribution as a young leader made a huge impact around the world.