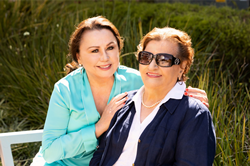 "I may have lost my sight, but not my vision. Blindness may be a condition, but having blindness of the soul is a choice."
SAN DIEGO (PRWEB) January 27, 2022
"Miracles on My Doorstep," is so popular it has become an international best-selling sensation. Writing a first book that becomes a best-seller may be considered beginner's luck. Waiting this long to start a new career requires more than that to beat the odds. Lorraine's success is spectacular considering she's blind. At 90 she says, "I may have lost my sight, but not my vision." Daughter, Linda Kaye, became her eyes and hands as the stories took shape that became this book.
New careers can be challenging. After 81 months of pregnancy, you might say Lorraine was 'somewhat' of an expert in early childhood development! Surviving the challenges of raising 9 teenagers, losing a spouse, parent, or child could discourage anyone. Lorraine says, "Life can bruise you, or even leave scars from experiences that will test your mettle."
But she has never wavered in her faith, as each provocative chapter reveals.
"Staying vibrant as a senior is challenging enough, but some people treat handicaps as if they were contagious. That makes aging more challenging than it needs to be. Blindness may be a condition, but having blindness of the soul is a choice."
Lorraine is available for interviews, live and in print. Dishing some of her own spice adds to a conversation that attests to a faith-based life worth living. Now ready for her next gig, book her quick!