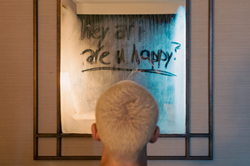 NEW PROVIDENCE, N.J. (PRWEB) October 04, 2022
Following the release of his sophomore album—All 4 Nothing—multi-Platinum chart-topping singer, songwriter, producer, and multi-instrumentalist Lauv is working with BetterHelp to promote mental health awareness. A vocal advocate for mental health via his music and nonprofit Blue Boy Foundation, BetterHelp is amplifying his message to de-stigmatize asking for mental health help by providing up to $3M in free therapy to Lauv's fans.
In honor of World Mental Health Day on October 10, Lauv and BetterHelp's partnership aims to promote the importance of mental health and improved access to therapy. Any Lauv fan new to BetterHelp can sign up and be matched to a licensed therapist for a free month of professional therapy by visiting http://www.betterhelp.com/lauv.
"Lauv is a global superstar and well-known advocate for mental health," says Alon Matas, President and Founder of BetterHelp. "We're excited to work with an artist who is as passionate as we are about reducing the stigma around mental health and spreading awareness of free therapy resources to millions of people."
In addition to this campaign, there will be a special announcement by Lauv and BetterHelp in the middle of October, powered by Kiswe, please stay tuned!
To learn more about BetterHelp's mental health services, please visit http://www.betterhelp.com. To stay in touch for the upcoming announcement, please follow Lauv's IG.
About LAUV
For as much as he's known for intriguing and inventive soundscapes, multi-Platinum chart-topping singer, songwriter, producer, and multi-instrumentalist Lauv asserts himself as a storyteller, first and foremost. His stories continue to enchant audiences everywhere by converting the magic around him into generational anthems. Starting his artist career in 2015, Lauv introduced himself with viral sensation "The Other," he landed a global smash in the form of "I Like Me Better." It tallied over 2 billion streams, while reaching Top 10 chart positioning at Top 40 radio and Top 5 chart positioning at Hot AC radio in the US, went sextuple-Platinum in the US and Platinum in twelve other countries. He served up Gold-selling 2018 playlist I Met You When I Was 18 and Gold-selling 2020 debut album ~how i'm feeling~ along with a procession of hits, including the Platinum hit "I'm So Tired" with Troye Sivan as well as Gold-certified singles "There's No Way" [feat. Julia Michaels] and "F**k, I'm Lonely" [feat. Anne-Marie]." In between selling out headline tours and supporting Ed Sheeran in stadiums, he has performed on The Tonight Show Starring Jimmy Fallon, Jimmy Kimmel LIVE!, The Late Late Show with James Corden, and more. Lauv's second full-length album, All 4 Nothing, is out now featuring "26', "All 4 Nothing (I'm So In Love)," "Kids Are Born Stars," and "Stranger."
About BetterHelp
BetterHelp is the world's largest therapy platform, with over 26,000 therapists, facilitating over 5,000,000 video sessions, voice calls, chats, and messages every month, and a mission to make sure everyone has affordable and safe access to high-quality therapy. Since 2013, the organization connects people to accredited psychologists (PhD / PsyD), marriage and family therapists (LMFT), clinical social workers (LCSW / LMSW), and board licensed professional counselors (LPC), and has so far helped more than three million people face life's challenges and improve their mental health.
About Kiswe
Kiswe is the interactive video company that transforms live streamed events into immersive and socially connected experiences, reliably, at scale. With its award-winning cloud video technology, Kiswe has delivered the world's largest digital pay-per-view events and serves the top sports, media, and entertainment companies with its production, content distribution, fan engagement, and audience data solutions. Kiswe is headquartered in New Jersey, USA and has offices in New York, Seoul and Hasselt. Learn more at http://www.kiswe.com.