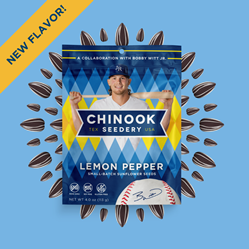 "In keeping with the guiding principles that Chinook operates by (No MSG, Gluten Free, Non-GMO, lower sodium content), we were able to develop a Lemon Pepper flavor that is unique, super flavorful and one that I'm proud to put my name on."
AUSTIN, Texas (PRWEB) October 26, 2022
Chinook Seedery, the only small batch better-for-you sunflower seed brand in the country, has announced today the launch of their newest flavor, Lemon Pepper. Done in collaboration with MLB star and Chinook Seedery investor Bobby Witt Jr., Lemon Pepper is the latest addition to an existing portfolio of unique and award-winning flavors.
"This flavor launch has been a year in the making, and I'm excited and humbled to see it finally come to fruition," said Witt Jr. "In keeping with the guiding principles that Chinook operates by (No MSG, Gluten Free, Non-GMO, lower sodium content), we were able to develop a Lemon Pepper flavor that is unique, super flavorful and one that I'm proud to put my name on."
A Texas native, Jr. was selected as the No. 2 overall pick in the 2019 MLB draft. He recently concluded his standout rookie season with 20 Home Runs, a team-leading 30 stolen bases, and a .254 batting average for the Kansas City Royals. Jr. led all rookies in the majors in extra-base hits, RBIs, and stolen bases and joined Barry Bonds, Alex Rodriguez, Mike Trout, and Ronald Acuña Jr. as the only players 22 years old or younger with 20 home runs and 30 stolen bases in a season. Jr. is the son of Bobby Witt Sr., who pitched for 16 seasons in the MLB, including two stints with the Texas Rangers from 1986-1992 and 1995-1998.
The idea for the new flavor came from one of Jr.'s favorite off-the-field activities, grilling for family and friends. Jr. can often be found cooking chicken, steaks, or other forms of protein that he seasons with a lemon pepper blend. It's from this affinity for that lemon pepper blend that the newest Chinook flavor was born.
"At Chinook, we pride ourselves on being flavor innovators and thoughtful about what we take to market. That's why it has been almost 18 months since our last release and why we chose not to partner with unhealthy fast-food brands or use other gimmicky partnerships just so we can release a new flavor," said Mark Pettyjohn, founder of Chinook Seedery.
With the addition of Lemon Pepper to the lineup, Chinook now has seven award-winning flavors, including Original, Parmesan & Pepper, Smokehouse BBQ, Hatch Chile, Cinnamon Toast, and Jalapeño Ranch. The result is a portfolio of flavors guaranteed to satisfy any craving while not compromising on the core belief of creating a better-for-you snack option through superior ingredients and a unique small-batch production process.
About Chinook Seedery
Based in Austin, TX, Chinook Seedery is the country's fastest-growing sunflower seed brand, providing a "better-for-you option" that is lower in sodium, non-GMO certified, gluten-free, and Keto friendly. Chinook combines a unique small-batch process with the largest, most premium seeds grown in the US, resulting in "The best seeds ever." For more information or to try the product, visit http://www.chinookseedery.com, or follow us on Instagram (@chinookseedery), Facebook (@chinookseedery), and Twitter (@chinookseedery).
About Bobby Witt Jr.
Bobby Witt Jr., nicknamed Jr., is one of baseball's most exciting young stars. Multiple outlets named the No. 2 overall pick in the 2019 MLB Draft, the 2021 Minor League Player of the year. Jr. is a finalist for 2022 AL Rookie of the Year. Follow Jr. on Instagram (@bwitter15), Twitter (@bwittjr), and TikTok (@bobbywjr15).