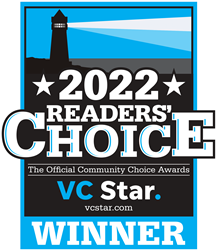 Let Us Exceed Your Expectations
OXNARD, Calif. (PRWEB) November 02, 2022
WHY CHOOSE THE SPECIALISTS AT ANACAPA DENTAL ART INSTITUTE?
Today many dental practices advertise the "Teeth in a day" or the "All on 4™ concepts. Essentially the concept involves removal of all of a patient's teeth when indicated, placement of 4 dental implants per jaw and placement of permanent teeth the same day. These teeth are temporary teeth which are made of plastic which the patient wears for 4-6 months after which definitive teeth are made.This concept advocates bone removal to find sufficient bone and to avoid bone grafting procedures. When this bone is removed gum is also lost and the patient ends up having artificial pink gum which replaces the bone and the gum. This concept is indicated for a specific clinical situation and should not be done for everyone that has all their teeth missing.
At Anacapa Dental Art Institute our philosophy is different and we espouse to the following protocols.
1. MORE THAN 4 DENTAL IMPLANTS
When possible, we place more than 4 implants per jaw just in case one implant does not take. You can imagine if you have four implants, and one implant fails the teeth cannot stay on three implants. It's like a table having four legs and one leg being damaged. That table would not longer stand. We make decisions based on the patients' needs and not on a specific treatment method. If we need to place more than 4 implants, we do that. From a patient's perspective they think it will COST MORE. At Anacapa Dental whether we place 4 or 6 implants the cost stays the same. The additional implants provide the patient with added security.
https://www.dentalimplantsventura.com/wp-content/uploads/2022/10/Point1.jpg
2. MINIMAL BONE REMOVAL
The traditional all on 4™ concept involves bone removal, placement of 4 implants and teeth the same day. The improved protocols involve preserving bone and gum and over engineering by placing additional implants when bone is available with the philosophy of keeping the surgical costs the same. We have a MINIMALLY INVASIVE technique where we preserve your own bone rather than remove it. In this way you maintain your own gum.
https://www.dentalimplantsventura.com/wp-content/uploads/2022/10/Point2.jpg
3. NO IMPRESSIONS – TECHNOLOGY
Patients often come in with loose teeth and are frightened of having impressions made as they feel their teeth will come out with the impression. At Anacapa Dental we have Intra-oral scanners which are essentially tiny video cameras and we scan your teeth without touching them and 3D print models.
4. HIGH END TECHNOLOGY, CT SCANS, FACE SCANNERS, 3D PRINTERS
We take 3D patient imaging via CT scans so we have all the information we need prior to surgery. WE have the CT scan on site and patients do not have to travel to another facility.
https://www.dentalimplantsventura.com/wp-content/uploads/2022/10/Point4.jpg
5. ACCURATE IMPLANT PLACEMENT
We utilise technology which combines information from the CT scan and the Intra-oral scanner to fabricate a 3D surgical guide which is used to place dental implants. This allows precise positioning and optimal outcomes. We use high end implants that are backed by research.
https://www.dentalimplantsventura.com/wp-content/uploads/2022/10/Point5.jpg
6. TEETH THE SAME DAY
You will get beautiful teeth the same day of surgery that do not move around and are not removable. These teeth are temporary but will have amazing aesthetics. You will wear these teeth for 4-6 months after which new ZIRCONIA based teeth will be fabricated.
https://www.dentalimplantsventura.com/wp-content/uploads/2022/10/Point6.jpg
7. ALL SPECIALISTS IN ONE SITE – REVISION TREATMENT
No longer do you have to travel from office to office to have your teeth taken care of. We have surgical specialists, anaesthesiologists, Prosthodontists and Master Dental technicians on site. Every Doctor working on you is very experienced and is a specialist. Our specialists have written books, articles and teach this procedure to dentists around the world. You can be sure they have completed treatment on thousands of patients. You can feel comfortable that you will be in very experienced hands. 65% of our work involves re-doing what others have done. We get referrals from dentists around the globe to take care of their patients.
8. ON SITE DENTAL LAB
We have an on-site dental lab. This lab has state of the art technology and more importantly Master Dental Technicians who are extremely qualified to deliver the highest level of cosmetics. The final teeth are made of ZIRCONIA. They are strong, don't stain, smooth and are very well accepted by the mouth biologically.
https://www.dentalimplantsventura.com/wp-content/uploads/2022/10/Point8.jpg
9. WARRANTY
This is a significant investment. We understand that and we provide you a peace of mind warranty. The implants are warranted for 5 years and the teeth for 10 years. This warranty is based on two things 1. Returning regularly for dental cleanings, we have to help you maintain the implants 2. At the end of treatment, we will provide you with a night-guard. It is very important you wear this to prevent damaging your teeth at night when most people grind their teeth. WE WANT YOUR TEETH TO LAST.
10. AN AMAZING TEAM
We have a very experienced team that will take care of you all the way. We endeavour to EXCEED YOUR EXPECTATIONS.
https://www.dentalimplantsventura.com/wp-content/uploads/2022/10/Point10.jpg
Patients often come to us looking for a second opinion or consultation. When you go to several consultations you will understand that not every place is the same. This is a significant investment wherever you go. You must be sure you have chosen the right place for your care as this is a very important decision.
At Anacapa Dental we understand that and will provide you with all the information you need so you can make the best decision for yourself
Please look through the rest of our website for more information and patient testimonials. These patients have been through what you are contemplating and will give you comfort in making the right decision.
For a consultation, please call tel:+18059883317 [805-988-8985]
We look forward to meeting you and EXCEEDING YOUR EXPECTATIONS.
The Team at Anacapa Dental Art Institute.