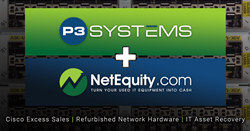 "Together, P3 and NetEquity will combine the best of each organization,maintaining our focus on product quality and the customer experience."-Frank PecoraCEO, P3 Systems
ROCHESTER, N.Y. (PRWEB) November 03, 2022
The addition of NetEquity to P3 Systems accelerates its growth strategy by adding new product lines, strengthening their digital footprint and allowing them to scale their IT asset disposition (ITAD) services.
Combining NetEquity's ITAD services with P3 Systems best-in-class refurbishment center will empower them to offer their customers more value on their trade ins and lower prices on their purchases without sacrificing quality. The P3 Systems and NetEquity teams are excited to combine their decades of industry experience and look forward to being able to provide their customers with improved services.
About P3 Systems: Since 2008 P3 Systems has been providing organizations worldwide with quality networking solutions, expert IT logistical support, and a best-in-class equipment lifecycle management service. P3 Systems specializes in providing Cisco Excess hardware and is committed to providing its customers with optimal solutions for their unique project requirements, no matter what brand or lifecycle stage that equipment may be.
About NetEquity: For over 18 years NetEquity has served its customers as one of the most trusted asset recovery, ITAD and secondary market equipment providers in the world. NetEquity provides its customers with reliable IT deinstallation and logistics services.