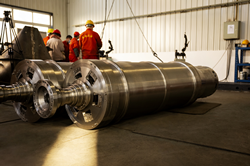 CHENGDU, China (PRWEB) November 10, 2022
Solid-liquid separation technology is rapidly developing, but that is not a problem for ZK SEPARATION, which uses a high concentration of research and product development to provide the best results for companies regardless of industry specialty.
ZK SEPARATION established by XBSY, has delivered an impressive 90 national patents and 20 invention patents covering the petroleum, chemical, coal, steel, resin, food, water treatment, and fermentation industries servicing Asia and further afield.
This is made possible thanks to their huge 55,000 square meter factory area, which operates as the hub for over 300 employees who drive the business towards the research and development of centrifuge machine technology and high-performance products. Add to this recently acquired advanced equipment from Germany, U.S., Japan, and other countries, and it is clear to see how ZK SEPARATION has become the pinnacle of their industry.
The Future of ZK SEPARATION
ZK SEPARATION has developed a catalog of over 200 sets of process equipment, covering specialisms in CNC gantry milling, lathes, boring and laser cutting machines, high-precision grinding machines, painting equipment, shearing and bending machines, and sandblasting equipment. This equipment allows them to further advance their services to their worldwide customers, offering cost-effective and energy-saving products from a wide range of models.
"It is an exciting time at the company," said Astelle Liu of ZK SEPARATION. "We're delighted to receive these new process equipment pieces, which will enable us to grow and develop technologies to service our customers throughout the world. We've already sold an incredible 10,000 centrifuges so far, and look forward to increasing this number as we enter the new year."
Innovation as the Key to Success
As an example of their latest researched products, they recently created a high-efficiency wastewater thickening centrifuge to improve filtration and an alcohol stillage treatment centrifuge to efficiently remove volatile solids and reduce chemical oxygen demand. Other centrifuges include gross oil centrifuges, food waste centrifuges, a harmless and resource treatment three-phase centrifuge, a pharmaceutical extraction liquid treatment three-phase centrifuge, a SOR three-phase oil sludge separator system, and a TDU waste oil sludge thermal desorption.
These unique products have helped the business grow throughout the world, offering more efficient horizontal spiral discharge centrifuges than previously used to increase stability and energy savings. Their filtration equipment also appeals to those with smaller square footage, as their water filtration systems are approximately ⅔ smaller than other models on the market.
About ZK SEPARATION
ZK SEPARATION develops special centrifuges for different fields, including petroleum and chemicals, tunneling engineering, sewage treatment, and mining equipment.
Their products are certified to ISO 9001, ISO 28001, ISO 14001, CE, EAC, DNV, GOST-R, and other international standards.
II. Product Advantages:
Convenience

A wide selection of models
Provision of turnkey projects
A high degree of automation
Easy management
Fully enclosed operation
Humanized operating environment
Cost-effectiveness

Highly adaptable to sludge and has a large treatment capacity
Adopting advanced control system and high-quality electrical components, which can reduce the consumption of chemicals and loss of electrical energy
A machine floor space about 2/3 smaller than traditional filtration equipment
Advanced Technology

Energy Saving: Dual Motor Dual Frequency Conversion Common DC Busbar Technology
Stable: Constant Torque Control Technology
Vortex Spiral Discharge Port-High Capacity
Variable Pitch Technology-Lower Solid-Phase Water Content
YG6, YG8 Carbide, SAF2205 Duplex Stainless Steel-Good Wear Resistance
For more information on ZK SEPARATION, please contact Astelle Liu at astelle@zkcentrifuge.comor learn more at https://www.zkcentrifuge.com/.