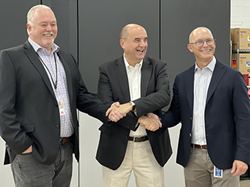 "The Xeikon SX60000 is particularly well-suited for short-run book manufacturing applications," said Xeikon CEO Benoit Chatelard. "We're honored to have been chosen by BookBaby to play a key role in fulfilling their corporate mission of enabling aspiring authors to be published."
PEENSAUKEN, N.J. (PRWEB) November 01, 2022
Two new digital Xeikon SX30000 printing presses are on the production floor and adding much-needed printing capacity to support the robust book sales BookBaby is seeing through its online print-on-demand supported Bookshop retail store. "Sales through the BookBaby Bookshop are up 85% year-over-year and we are forecasting our biggest holiday selling season yet" said Jim Foley, BookBaby President. "We are very pleased with the quick execution of the Xeikon team to get these presses manufactured, shipped across the ocean, and installed into our plant just in time for the busy fall and winter rush that we are anticipating."
The 2 new Xeikon SX30000s, shown at a ribbon-cutting ceremony on BookBaby's production floor, are roll-fed presses capable of running 428 letter pages/minute and 2,545 B2 sheets/hour per press. These additional presses increase BookBaby's printing efficiency by 50%, making it an ideal instrument to serve photographers, children's book authors, and other clients who need full-color printing.
"BookBaby is determined to be the fairest destination for independent authors to sell their books. We are an operationally excellent organization and because of our reliable and efficient operations we can pay authors the lion's share of the money when their books sell in our store," says Foley. The BookBaby Bookshop pays a healthy 50% royalty on printed book sales and an even more impressive 85% royalty on digital eBook sales.
There's something special about reading indie books.
Readers enjoy discovering books at the BookBaby Bookshop and directly supporting the authors who write them. "There's no publishing house motive–they're true expressions of author creativity and passion. Having the ability to purchase on BookBaby Bookshop, where indie authors are directly supported by each purchase, makes the shopping experience as fulfilling as reading the book itself," said Joe Yamulla, BookBaby Bookshop Manager.
"The Xeikon SX60000 is particularly well-suited for short-run book manufacturing applications," said Xeikon CEO Benoit Chatelard. "We're honored to have been chosen by BookBaby to play a key role in fulfilling their corporate mission of enabling aspiring authors to be published. We view the relationship as a true partnership."
About BookBaby
BookBaby is where writers become authors. Our mission is to take the hard work out of self-publishing: From book printing, eBooks, book distribution, cover design, professional book editing, and now book marketing products, BookBaby has everything today's indie author needs to succeed. BookBaby also distributes your printed books and eBooks to the largest distribution network, including Amazon, Apple Books, Barnes & Noble, and many other popular retailers worldwide. You'll keep 100% of your book's net sales while retaining all rights and creative control.
Since 2011, we've helped tens of thousands realize their self-publishing goals, backed by our 100% satisfaction guarantee. Just call us at 877-961-6878 and talk through the process with a real human being–usually a fellow writer who is invested in the success of your book.
About Xeikon
Xeikon, a division of Flint Group, is a long-standing leader and innovator in digital printing technology. Grounded in the principles of quality, flexibility, and sustainability, Xeikon designs, develops, and delivers digital color presses for label and packaging applications as well as graphic arts and commercial printing. These printing machines work with different imaging technologies, open workflow software, and application-specific consumables.
Xeikon is Flint Group's "Digital Printing Solutions" division for the leading global print consumables and solution provider to the packaging and print media industries. Flint Group develops and manufactures an extensive portfolio of consumables for the printing industry. These include a vast range of conventional and energy-curable inks and coatings, press room chemicals, and pigments and additives for use in inks and other colorant applications. Flint Group is based in Luxembourg and employs around 5500 people. On a worldwide basis, the company is the number one or number two supplier in every major market segment it serves.
For more information please contact:
BookBaby
Daniel Baker, VP of Marketing
dbaker@diymediagroup.com
(800) 468-9353 x5194
Xeikon
Larry Vogel
larry@analystadvisors.com
(760) 770-3818